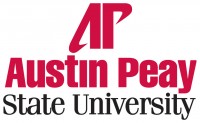 Clarksville, TN – G.H.O.S.T. (Greater Halloween Options for Safe Trick-or-Treating) is Austin Peay's Student Government Association's most successful and well-known community outreach event.
Held annually around Halloween each year, the event provides children from surrounding communities to trick-or-treat in a safe and controlled environment. Austin Peay student organizations also use G.H.O.S.T. as an outlet to promote their groups and assist in making the occasion fun and interactive for children and their families.
This year's event will be held on Sunday, October 30th, from 4:00pm until 7:00pm in the heart of Austin Peay's campus (or in the Memorial Health Building in the event of rain). Seventy-five student organizations have registered to set up for the event, offering activities such as face painting, crafts, and "haunted" attractions. And of course, candy will not be in short supply.
The event is free and open to the public.
Records show that G.H.O.S.T. began in 1996 and has continued each year since then, gaining more success and popularity with each passing year. There have been minor changes made to the program; however, the general idea has remained the same. Originally meant for the children of Austin Peay's students, the event has a reputation for drawing 3,000 or more annual attendees in recent years. Austin Peay's Student Government Association takes pride in this event, valuing the opportunity it provides for families and future Governors in the community.