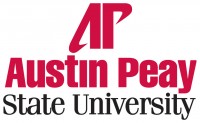 Clarksville, TN – Two faculty members at Austin Peay State University announce their recent professional and scholarly activities.
Dr. Thomas King, professor of music, will receive the prestigious Signature Sinfonian Award from Phi Mu Alpha music fraternity at a special ceremony on Saturday, November 19th at APSU. Only seven men in the nation will receive this award this year. He has been a member of Phi Mu Alpha for 46 years, having served chapters in Kansas, Mississippi and Tennessee, specifically at APSU for more than 20 years.
In addition, one of King's students, Michael Taylor, a tenor, represented APSU at the Tennessee State National Teachers of Singing Master Class on October 29th at Middle Tennessee State University in Murfreesboro. He was the only student from APSU to take part.
Dr. Gregg Steinberg, professor of health and human performance, was interviewed by CNN.com for a story on a growing number of professional athletes wearing titanium-laced necklaces as a ritual to control and better performance. The article appeared online October 26th.