APSU Sports Information: Austin Peay Football

Cookeville, TN – Austin Peay State University's football team closed the season with a 49-7 Ohio Valley Conference loss at Tennessee Tech, Saturday, allowing the Golden Eagles to claim the 2011 OVC Championship.

Austin Peay finishes at 3-8 overall with a 2-6 OVC mark. Tennessee Tech becomes the OVC's first two-loss champion, coming in at 7-3 with a 6-2 league clip.

Govs senior running back Ryan White ran for 140 yards, topping the century mark for the fifth time this season while also reaching 1,100 yards rushing on the season. With that, White finished his Governors career with two 1,000-yard seasons, this year's being the ninth 1,000-yard season in school history.

It was on White's 18-yard, second-quarter, touchdown run the Govs recorded their only score against the Golden Eagles. That run also happened to be the Govs only fourth-down conversion, as the Govs looked at fourth-and-three on the TTU 18-yard line.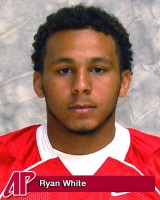 Tennessee Tech scored twice in the first quarter, but the Govs were able to close the gap after White's TD with 12:49 left in the second quarter. Austin Peay forced three fumbles in the first half, but were unable to convert the turnovers. Trailing by a touchdown, the Govs missed two second-quarter field goals – from 29 yards and from 52 yards – both kicks having the distance, but missing on the mark.
Austin Peay came untracked in the second half, allowing 35 unanswered points to the Golden Eagles. A pair of interceptions and a fumbled kickoff return by Austin Peay all resulted in touchdowns by Tennessee Tech.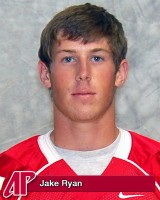 The Govs ended with 255 yards of total offense, amassing 153 on the ground and 102 yards passing. Tennessee Tech, meanwhile, amounted 458 yards of offense, including 346 rushing yards – the most allowed by the Govs since the season opener at Cincinnati (387).
Junior quarterback Jake Ryan completed 11-of-28 passes for 102 yards, while junior wideout Devin Stark caught four passes for 41 yards. Junior safety Antwaun  Majors led the Govs with 14 tackles, while junior linebacker Darrick Dillard had 11 tackles and forced a fumble.
Sections
Sports
Topics
Antwaun Majors, APSU, APSU Athletics, APSU Football, APSU Men's Football, APSU Sports, Austin Peay State University, Cincinnati Bearcats, cookeville TN, Darrick Dillard, Devind Stark, Golden Eagles, Governors, Govs, Jake Ryan, Ohio Valley Conference, OVC, OVC Championship, Ryan White, Tennessee Tech