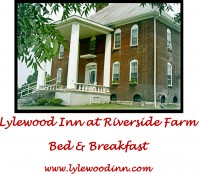 Indian Mound, TN – The Lylewood Inn is offering special dinner and overnight packages for couples looking for unique ways to celebrate Valentines Day. Come and enjoy a candlelight dinner for 2, or plan an overnight getaway complete with a romantic dinner. Staff will serve dinner in the dress and service of southern charm during February 10th to the 18th.
The Candlelight dinner package includes: appetizers, salad, all you can eat main course, tea and coffee, dessert and an evening to remember. You may choose from 4 menus upon arrival. Cost is $45.00 for two, and  includes all costs except gratuities.
The Overnight Package includes: Dinner for 2 (as above) will be served in the dining room. Guest rooms include private bath and fireplace to keep you warm and cozy. Enjoy a wonderful southern breakfast to greet you the next morning, served family style in the dining room. Package includes a surprise basket of goodies and appetizers in your room. Come and enjoy the beauty of country living for an evening. Cost is $115.00 for all, limited availability.
Reservations are required for all dinners and overnight stays. Checks or cash only. Or you can pay in advance online with Paypal.
For more information contact Mandy Williams at 931.232.4203 (always leave message), or visit their web site.
Map
The Lylewood Inn Bed & Breakfast is located at 110 Camp Lylewood Road in Indian Mound, TN.
Sections
Events
Topics
Lylewood Inn, Mandy Williams, Valentine's Day