Austin Peay Lady Govs vs. Jacksonville State
Saturday, January 14th, 2012 | Tipoff: 5:15pm (CT)
Clarksville, TN | Arena: Winfield Dunn Center (7,257)

Clarksville, TN – Austin Peay continues its three-game homestand when it hosts Jacksonville State in a 5:15pm, Saturday, January 14th contest. Austin Peay brings a two-game win streak (its second this season) into the contest after defeating Murray State, last Saturday.

Jacksonville State, which brings a nine-game losing streak to Clarksville – has struggled to a 3-15 mark this season and is off to an 0-5 start in OVC play, losing its league games by an average of 17.6 points per outing.

The Lady Govs have won the last four meetings, but three of the four have been decided by eight points or less.

Austin Peay has found its shooting touch during OVC play, making 43.1 percent of its shots, including a 43.3 percent effort against Murray State. The Lady Govs 14-point second-half lead against Murray State was its largest lead in any game this season.

Austin Peay overcame a second-half deficit to win for the third time this season, trailing by nine points with 15:22 left in the game against Murray State. Austin Peay's three leading scorers – Whitney Hanley (26), Meghan Bussabarger (18) and Leslie Martinez (14) – accounted for 58 of the team's 71 points.

Austin Peay improved to 5-6 when three or more players score 10 points in the same game. The Lady Govs held Murray State to 63 points, the seventh time this season it has held an opponent below 70 points. Hanley's 26-point outing was her fourth consecutive 20-plus scoring effort and ninth this season.

Bussabarger scored 10+ points for the fifth time in her last six games. Martinez' career-best 14-point effort was her first double-digit effort since December 21st.
About Jacksonville State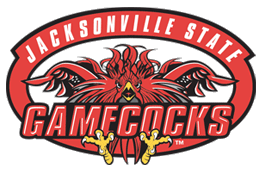 Jacksonville State brings a nine-game losing streak into Saturday's contest, last posting a win December 4th against Troy. The Gamecocks have not won in 11 games away from Jacksonville this season, last winning on the road in the OVC Tournament's first round last season (March 2nd vs. Tennessee State).
The Gamecocks most glaring problem has been turnovers this season, the team averaging an OVC-worst 24.9 turnovers per game (no other team is averaging more than 19 per game).
Individually, freshman Briana Morrow (11.5 ppg, 7.8 rpg) and junior Danielle Vaughn (10.4 ppg, 8.6 rpg) are Jacksonville State's leading scorers and rebounders. Morrow is the reigning OVC Freshman of the Week after averaging 9.0 points and 11.0 rebounds in JSU's two games last week. Vaughn has averaged a double-double (10.5 ppg, 10.4 rpg) in OVC play this season.
Fast Break Points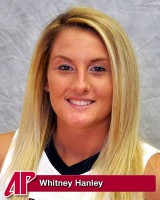 Austin Peay continues to search for the right starting five combination. The Lady Govs have used 11 different starting lineup combinations this season. Those 11 combinations are the most used by a Division I team this season, only Colorado State has put forth at least 10 different lineups this season.
Senior guard Whitney Hanley became the 14th Austin Peay women's basketball player to reach the 1,000-point plateau with her 21-point performance at Lipscomb, November 14th. Her 1,251 career points is ninth on the Lady Govs all-time scoring list and she needs needs 57 points to move into eighth on the list – a spot currently held by Elaine Swafford (1.307 pts, 1977-81).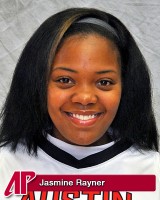 Hanley saw her school-record streak of consecutive made free throws stopped at 25 when she missed her first free throw at Tennessee State, December 29th. She made her final three attempts. She broke the record, previously held by Brooke Armistead (24 consecutive FTM), with a 4-of-4 effort against Alabama A&M, December 21st.
Senior forward Jasmine Rayner is working towards the 1,000 career point plateau – and now needs only seven points to become the 15th Lady Govs player to reach the milestone.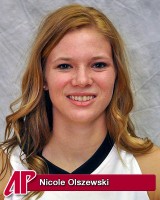 Austin Peay returns its four leading scorers from last season's team: Hanley (12.2 ppg), Rayner (10.5 ppg), junior forward Meghan Bussabarger (8.0 ppg) and sophomore guard Nicole Olszewski (8.0 ppg).
Hanley was named to the Preseason All-OVC team after receiving second-team All-OVC honors last season.
Austin Peay is 47-51 (.480) in regular-season OVC play under Daniels.
The Lady Govs are 23-22 (.511) in January under Daniels.
An Austin Peay Win Would
Be its third consecutive win… make it 3-0 in 2012… move it above .500 in OVC play (3-2)… be its fifth straight win against Jacksonville State… be its second straight win at the Dunn Center, improving to 3-4 in home contests… improve Daniels' record to 69-107 overall, including a 48-51 record in OVC play… make the Lady Govs 421-578 overall since 1976-77.
An Austin Peay Loss Would
End its two-game win streak… be its first loss in 2012… be its first loss to Jacksonville State since February 19th, 2009 – ending its four-game win streak in the series… be its fifth loss at the Dunn Center this season… drop Daniels' record to 68-108 overall, including a 47-52 record in OVC play… make the Lady Govs 420-579 overall since 1976-77.
Last Time Out
Austin Peay Lady Govs vs. Murray State
January 7th, 2012
Clarksville, TN – Austin Peay used a 16-4 second half run to post a 71-63 comefrom-behind victory against Murray State, Saturday, in Ohio Valley Conference action at the Dunn Center.
Trailing 40-34 with 11:26 remaining, Austin Peay scored 16 of the game's next 20 points. Junior Leslie Martinez scored back-to-back fast break layups during the push, capped by junior Meghan Bussabarger's conventional three-point play that gave APSU a 50-44 lead with 7:26 that they would not relinquish.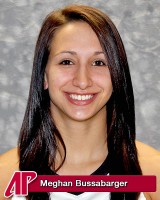 Murray State attempted to chrage back in the final 2:30 with a barrage of three pointers but could not get closer than six points after Kayla Lowe's long-range three with 30 seconds remaining.
Senior Whitney Hanley led all scorers with 26 points – her fourth straight outing scoring more than 20 points. Bussabarger added 18 points and Martinez chipped in 14 points. All three grabbed eight rebounds.
Mariah Robinson led Murray State with 17 points. Ashleigh McBean, who scored 14 first-half points, finished with a career-high 16 points.
Lady Govs Last Meeting With Jacksonville State
February 17th, 2011
Jacksonville, AL – Austin Peay kept its win streak intact, escaping with a 56-53 decision at Jacksonville State, Thursday, in Ohio Valley Conference action.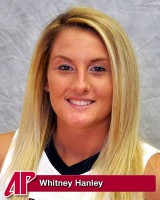 The Lady Govs watched a 16-point second-half lead evaporate, but managed to withstand the furious Gamecock rally in the game's final two minutes. With the lead shrank to one point, 54-53, with 20 seconds to play, but Jacksonville State couldn't convert its possession, allowing Whitney Hanley to come away a defensive rebound that led to the game-sealing free throws.
After Austin Peay shot 46.4 percent and took a 13-point lead into the break, the entire second half was dominated by Jacksonville State. The Lady Govs led by 16, 38-22, after a Meghan Bussabarger layup with 17:53 to play in the game. At that point, the Lady Govs went cold and the Gamecocks begin to mount their rally.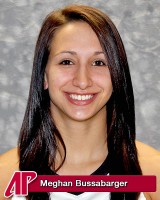 Brittany Manning and Danielle Beneby – who each finished with 18 points – put together a five-point run to cut APSU's lead to single digits, but Bussabarger answered with another bucket to make it 40-29 with 15:01 to play.
Over the next five minutes, Manning would score six points to key an 11-2 JSU run to make it a one-point game, 42-41, with 9:40 left.
At that point, Hanley took over for the Lady Govs. She knocked down a three to extend the lead to four points and on the ensuing possession pulled a rebound and started a fast-break that ended with a Jasmine Rayner layup. Hanley would score five more points to make it a nine-point game, 52-43, with 6:04 remaining.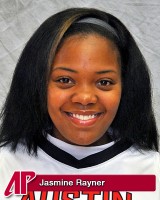 Jacksonville State got it close again in the final two minutes, but spurts of offense would not be enough to keep the Lady Govs at bay. In fact, those spurts ran out at the end as JSU came up empty three times in the final 20 seconds, only to watch the Lady Govs hang on for the win.
Rayner had a double-double with 14 points and 12 rebounds to lead Austin Peay, while Hanley also added 14 points. Warner played 33 minutes off the bench, finishing with two points, four assists and two steals.
Haynes To Join APSU Athletics Hall of Fame
Ashley Haynes, a Lady Govs alumnae who played from 2002-06 will become the ninth women's basketball player inducted into the Austin Peay Athletics Hall of Fame in a January 28th ceremony. She will join the following list of Lady Govs alumnae:
Stella Schnupp (1978)
Joanne Arnold-Tribue (1988)
Shandra Maxwell-Chambers (1998)
Andrea Miller (2003)
Amanda Behrenbrinker-Sloan (2005)
Brooke Armistead (2009)
Gerlonda Hardin (2010)
Paige Smith (2011)
Carrie Daniels Show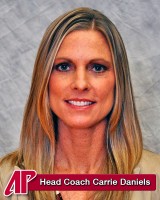 The Carrie Daniels Show airs at 6:00pm, each Wednesday, live from Edwards Steakhouse on Franklin Street in downtown Clarksville.
Hosted by Brian Rives for the fourth consecutive season, the show will air live on WVRY 105.1 FM and be simulcast over the internet at www.LetsGoPeay.com.
Next Game
Austin Peay Lady Govs vs. Eastern Kentucky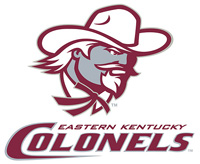 Austin Peay and Eastern Kentucky will meet for the second time this season in a 5:15pm, Monday contest. The rematch will come just two weeks following the Lady Govs 66-63 victory in Richmond, January 2nd, that is the Lady Colonels lone OVC loss this season.
Both teams take two-game win streaks into this weekend's play. Eastern Kentucky will travel to Morehead State, Saturday, before trekking to Austin Peay.
Sections
Sports
Topics
Alabama A&M, Andrea Miller, APSU, APSU Athletics, APSU Basketball, APSU Sports, APSU Women's Basketball, Austin Peay State University, Briana Morrow, Brooke Armistead, Carrie Daniels, Clarksville TN, Colonels, Colorado State, Downtown Clarksville, Dunn Center, Eastern Kentucky, Edward's Steakhouse, Elaine Swafford, Franklin Street, Gamecocks, Gerlonda Hardin, Jacksonville State, Jasmine Rayner, Lady Colonels, Lady Govs, Leslie Martinez, Lipscomb, Mariah Robinson, Meghan Bussabarger, Morehead State, Murray State, Nicole Olszewski, Ohio Valley Conference, OVC, OVC Tournament, Paige Smith, Richmond KY, Tennessee State, Troy, Whitney Hanley