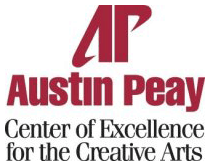 Clarksville, TN – This Valentine's Day, the Austin Peay State University Center of Excellence for the Creative Arts plans to set a romantic mood with its newest Winter Salon Series Event – A Reading of Love Poetry by Dr. David Till.
"Well, it's Valentine's Day, so the subject will be love: some old favorites and maybe some poems new and surprising, too, I hope," Till said. "It was William Carlos Williams who said 'It is difficult / to get the news from poems / yet men die miserably every day / for lack / of what is found there.' The whole performance will be a sort of ramble or collage, of if I can manage it, a graceful unfolding."
The Salon, which is free and open to the public, will be from 5:00pm to 6:00pm on February 14th in the large meeting room of the Clarksville-Montgomery County Public Library. The evening will feature Till reading an assortment of famous and not-so famous love poems by renowned poets.
"Before you take your significant other out for dinner, come and hear a couple of lines of poetry," Christopher Burawa, director of the Center of Excellence, said. "And I can't think of anyone better to hear than David Till. He's a beautiful reader of poetry. He just loves it so much. He can somehow access the spirit of the muse the helps the poet write the poem."
Till is emeritus professor of English at Austin Peay State University, where he has taught poetry and literature since 1971. In 2006, his collection of poetry, Oval, was published by Zone 3 Press.
The Center hosts the Salon Series once a month during the fall and spring semesters, featuring distinguished local scholars, artists and arts organizations, followed by refreshments and good conversations.
"We'll have books for sale if anyone wants one," Burawa said. "What better way is there to celebrate Valentine's Day?"
For more information on this, contact the Center at 931.221.7876.