APSU Sports: Austin Peay Men's Tennis

Mobile, AL – Austin Peay State University men's tennis lost a hard-fought battle with South Alabama, 4-1, Thursday.
While the Govs walked won only one match against the ITA-ranked No. 42 Jaguars, they managed to force a trio of three-set matches. Junior Sean Bailey picked up the Govs only win, handing Romain Bocaert his second loss in five matches.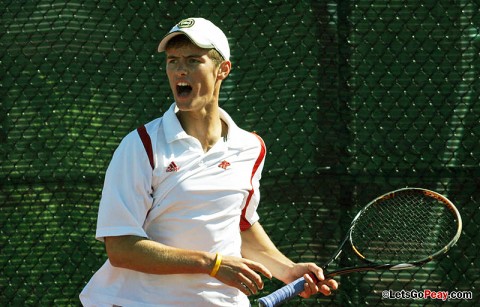 Austin Peay fared well in singles play against the nationally-ranked Jaguars. Freshman Dimitar Ristovski won the second set against Daniel Leitner while fellow freshman Aleksas Tverijonas also won the second set at No. 4 singles. The bottom two singles matches were left unfinished due to time restraints.
In doubles action, the Govs battled in all three matches. Seffrin and Tverijonas lost 8-4 at No. 3 doubles, while Bailey and Ristovski lost 8-6 at No. 1 doubles. The final doubles match ended in a 9-7 loss by junior John Storie and sophomore Jasmin Ademovic.
This was the final match of the Govs Spring Break trip. They return to action with the start of Ohio Valley Conference play against SIU Edwardsville, March 17th.
#42 South Alabama 4, Austin Peay 1
Singles competition
1. BAILEY, Sean (APSU) def. Bocaert, Romain (USA) 6-2, 7-6
2. Bernard, Alex (USA) def. ADEMOVIC, Jasmin (APSU) 6-7, 6-4, 3-0, retired
3. Leitner, Daniel (USA) def. RISTOVSKI, Dimitar (APSU) 6-1, 5-7, 6-3
4. Hall, Cody (USA) def. TVERIJONAS, Aleksas (APSU) 6-2, 3-6, 6-1
5. Gregor, Blake (USA) vs. SEFFRIN, Iago (APSU) 6-4, unfinished
6. Kruger, Dauw (USA) vs. STORIE, John (APSU) 6-2, 1-0, unfinished
Doubles competition
1. Bocaert, Romain/Bernard, Alex (USA) def. BAILEY, Sean/RISTOVSKI, Dimitar (APSU) 8-6
2. Bartsch, Hanno/Kuehne, Christian (USA) def. STORIE, John/ADEMOVIC, Jasmin (APSU) 9-7
3. Leitner, Daniel/Hall, Cody (USA) def. SEFFRIN, Iago/TVERIJONAS, Aleksas (APSU) 8-4