Clarksville, TN – On April 4th, 2012, around 7:00am, 2002 GMC pickup, driven by Jerry Swift, 60, was traveling north, had just crossed the Red River Bridge when the driver blacked out, crossed the southbound Lanes of Wilma Rudolph Boulevard, went over a curb, and crashed into the rock wall.
After the crash occurred, a Chevy S-10, driven by Billy Dinsmore, 33, was traveling northbound on Wilma Rudolph Boulevard in the left lane and slowing down.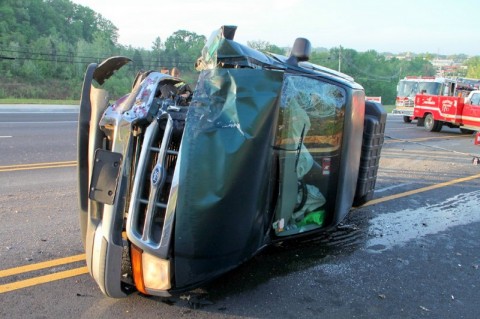 In the meantime, a Ford Ranger pickup driven by Joel Thomas, 55, behind the Chevy S-10, was entering the center left turn lane to turn left at Old Trenton Road. Thomas was looking at the crashed vehicle and did not see that the Chevy had slowed until it was too late and collided with the rear of Chevy.
Traffic flow was disrupted for over an hour.
Billy Dinsmore was transported by ambulance to Gateway Medical Center with non-life threatening injuries.
Joel Thomas was cited for Failure to Use Reasonable Care.
Photo Gallery