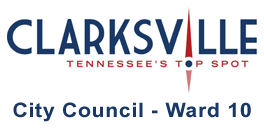 Clarksville, TN – I hope everyone had a great Easter Weekend. Since it was a long regular council meeting last Thursday night and I had family plans for this weekend, I am a bit behind in getting my usual council recap report to you.
It has also taken a bit of time to get this lengthy report built. Here are the results on the big topics:
Rezoning – Ordinance 76
This was a rezoning in our ward on property near the intersection of Madison Street and Richview Drive. The rezoning was a request to go from residential (R-1) to commercial (C-5). A concern with adjusting the buffer property between the neighborhood and the rezoning property had arisen. All affected parties have worked in a very friendly manner and it seemed that a bit more time was needed to work out an agreement that met everyone's need.
I have facilitated the process by talking with all parties and working with the Planning Commission staff and the Clarksville Street Department to get all options and details. I requested a 30-day delay from the council on the rezoning decision to allow discussions by the affected parties to adjust the buffer boundary. My request was approved by a 9-Yes & 3-No vote.
Clarksville City Charter
The city charter was approved for submission to the state by a 9-yes & 4-no vote. I voted "no" due to a large majority input from ward citizens to "go to the mat" on limiting mayoral voting and try to force a change. I told readers I would bring back the amendment to the council floor to limit mayoral voting to breaking ties.
Residency Requirements For Council Members
This was an amendment that Councilwoman McLaughlin brought up at the first charter commission meeting and attempted to do so at several other meetings. Her proposal provided more in-depth rules in determining whether a candidate or sitting council members was meeting the residency policies for office. This item kept getting pushed back at the commission efforts and suddenly time could not be found address it.

It was made very clear at the last commission meeting she would present this amendment on the council floor for charter consideration. There were no complaints or objections about this being done. Thus, it was surprising to listen to a couple of council members complain about why was this being brought up at the council meeting.

Like the mayoral voting issue, this was a topic that several of us on the council believed was a "must have" change.  The new residency requirements would take into consideration where a drivers license stated your home address is, principal abode of spouse and family, address used for billings related to the person, and where a person normally sleeps as factors to be used.

The debate got somewhat intense and I'll cover that more a bit later. Clarksville Mayor Kim McMillan, who had shown a lack of support on the topic in earlier limited discussions at the commission, argued and voted against it at the council meeting. In the end the amendment was approved by a 7-yes & 6-no vote. I voted "yes".
Mayoral Voting
With the passage of the new residency rules, I had hoped that support might be swayed to get the mayoral voting issue approved so I made the pitch for this amendment. As you will recall, the amendment was to limit a mayor to voting only to break ties. This recommendation had received a vote of support of 5-yes and 0-no during the 2011 Charter Committee review.

However, most members of that committee showed a lack of conviction on the topic when Mayor McMillan disbanded that committee and showed no support for the concept during the commission meetings. Data that showed other mayors that have veto power could not vote, that state law does not allow county mayors to vote except in a tie, and that the executive branch is limited or not allowed to vote in most other levels of government was not enough to sway a majority.

The lack of separation of powers, which the city judge also cited as an issue numerous times with the city court, did not make a difference in the end.

After rounds of point-counterpoint, the mayoral voting power amendment was defeated by a 5-yes & 8-no vote. The mayor voted "no" and I voted "yes". This may not be the end to this debate as several non-council charter commission members saw merit to limiting mayoral voting if council at-large members were approved and added to the council.

The main argument was the mayor is the only position elected by the whole population so the position should be allowed to vote any time and for any purpose.  That argument would be moot if all people elected an at-large position(s).
Other Comments and Observations
Based on comments and arguments made at the commission meetings, I would not have been surprised to have seen a couple of other amendments brought forth for consideration by the council. Council members had received information from the city judge's office that there were still problems not resolved and the lack of separation of powers was still an issue.  However, no one took up this topic.

During the discussions of the amendments, a couple of council members seemed to take offense that they were even brought up. On Councilwoman McLaughlin's residency amendment, I spoke in favor of it and mentioned that this was an issue of great concern and a sticking point (or words to that affect) to some on the council.

Councilwoman Johnson spoke up and seemed to be trying to make some point of how did I know what these other council members thought and proceeded to make some other general comments on the topic. I did not request to respond to her question although it seemed I was being called out for some reason.

I will tell readers that how I knew was very simple. I paid attention and listened to council members during the short discussion sessions at the commission, when efforts to bring up the residency topic up kept getting pushed to the back of the agenda. The issue on restrictions and eligibility of council members was also a debated topic listed in the minutes of the 2011 charter group that each commission member received and was supposed to study and prepare with.

There are also other aspects that aid in understanding and knowing what is going, which might also be of interest to Councilwoman Johnson. Attend city meetings, show up on time to the meetings you do attend (don't have the mayor hold up meetings waiting on you to show up), actually listen to the various discussions that do go on, do not be continually texting, tweeting or trying to catch up on the day's emails during the city meeting, and study the documents you have been provided as educational material on the topic.

During these same discussions on residency, Councilman Harris seemed unhappy with the "factors" listed to prove residency. His point seemed to imply these changes were directed at him personally and it appeared the discussion could get very lively.

Mayor McMillan jumped into the discussion to cut off any direct verbal attacks. It has been published that the councilman has been accused by some constituents of no longer living fulltime in his ward. I have not seen anything out of City Hall to affirm or deny the allegations against Councilman Harris.

However, this has been an issue before Councilman Harris was mentioned. We have had allegations that previous council member(s) had used business addresses within a ward to run or maintain office and the issues were debated (as previously mentioned) with the 2011 charter group and efforts that go back to the start of the charter update efforts.

When I brought up the mayoral voting amendment for consideration, Councilwoman Johnson felt the need to speak up and apologize to non-council members of the Charter Commission (many were in attendance). Somehow she felt my amendment, and that of Councilwoman McLaughlin, was somehow insulting the integrity and two months of work by this commission.

The insinuation was the commission had approved the proposed draft charter and who were we to change or disapprove it.  I decided to respond to her comment on this issue. I reminded Councilwoman Johnson that this charter commission's submitted version was a "recommendation" and that it was the council's responsibility to accept, decline or adjust as needed. Thus, no apology was warranted or needed for a city council that was doing its job.

I also reminded Councilwoman Johnson that on March 23rd, 2009 (as recorded in the council meeting minutes) she had not seen the need to issue an apology to that charter commission group who attended and had labored for 18 months to present a charter version to the council for review and approval. During that council charter meeting, Councilwoman Johnson helped sponsor an amendment to the proposed final charter on the council floor – the exact same action that McLaughlin and I were doing last Thursday.

Johnson's supported amendment was defeated. That 2009 charter effort was submitted to the state even though Councilwoman Johnson and three other council members (Burkhart, Wallace, Harris) felt strong enough in their convictions to vote against the final version. They did not offer nor did they need to make an apology for trying to stop a charter revision they did not support.

I will support and acknowledge the right of any council member to fight and vote for what they and their constituents believe is the right course of action for our city. While I, and others, did not support her actions and votes on that March 2009 charter effort, I accepted Councilwoman Johnson convictions that she believed she was doing what was right.  It seems a bit hypocritical not to accept the efforts and actions of others for battling to do same thing in April 2012.



Budget Cuts
I had submitted my concerns to you previously on how the cuts were taking place.  I proposed an amendment to the cuts to restore the $554,168 of equipment reductions to the police department.  My amendment was defeated in a 5-yes, 6-no and 1 abstain vote (Councilwoman McLaughlin). The mayor chose not to vote on the amendment, but her acceptance vote of the cut was noted in a 10-yes & 3 no vote of the total cut package.

I voted "no" due to the brunt of these cuts landing on the police department and its equipment needs. The cuts should have been more across the board or involved the elimination of programs completely. This is a mayoral decision that should have been done when the cuts were first proposed.

In the "suggested" 5% cuts, the mayor hoped the police would have accounted for $1,259,337 out of $3,377,570 to be cut citywide. However, in the final analysis the police took a $1,576,082 reduction out of a total city cut of $2,281,026.  This equates to the police providing a 6.3% reduction of their total budget and 69% (versus a planned 37%) of all the city reductions.

The police department reduced staffing costs by not hiring the additional dispatch positions funded in the current budget (this makes several years in a row funding was initially provided and no positions hired, which really questions do we need them), but the rest were savings due to delays in bring on new officers to fill vacant positions. This equated to $871,814 in personnel.

The dispatch positions were initially funded for $143,000 so the remainder of $728,814 was largely officer pay. Most department personnel pay is never used 100% as there is always a gap from when a worker leaves a position and a new worker is hired to fill it, usually at lower pay. So it is not unusual to have left over money to roll over to the next budget.

However, you have to wonder how many patrol hours were lost due to not hiring and training officers as soon as possible. While the pay is a lost issue since officers cannot be added to make up for the unspent patrol/work hours on the street, the $554,168 for patrol cars and equipment could still be in play.

Although it was argued that the time remaining in this budget year might not allow the cars to be ordered and show up in time to be paid out of the current budget, I asked the Finance Director if there was a problem rolling the money to the next budget to pay for orders this year and he said no.  We have run into the same issue in ordering fire trucks due to the long lead-time to build. So this was a weak argument to support cutting the equipment money.

Twenty-one (21) police cars are not being purchased to keep up the fleet. The vehicles will have to be purchased in future years. So we roll the problem and need forward. HOWEVER, a big point seemed to be overlooked. We borrowed $3 million dollars last August, of which a large portion was to go to buy police cars. The mayor had to borrow that money, and did, to balance her budget.

The Finance Director stated that a large majority of that money (borrowed for car purchases) was still sitting in the city account and not going anywhere. He stated that this money could not be spent on anything else except capital projects, which the cars fall under.

Of course, his emphasis that it could only be spent on capital projects prompted questions was the money being saved, diverted or obligated for some other activity the council did not know about. He said no. He further stated, although he did not have the exact numbers in front of him, that the city had close to $2 million of unobligated money sitting in its account. He said much of this was due to higher than expected sales tax collections we had experienced.

So we have money the mayor borrowed for no other purpose than to buy cars and it is available, the council chose not to skip borrowing that money back at the beginning of the budget process (remember the fight to cut $2 million from the initial budget), the money is not being spent on anything else, the price of patrol cars will likely go up and we have a need (not a want) according the mayor and department heads when the initial budget came out last year for vehicles and no cuts could be taken.

So the question begs why aren't we buying the patrol cars since we aren't really saving or accomplishing anything, EXCEPT to make the accounting books look better at the end of the year? From 2007 to 2010 we added about 26 officers, increased officer pay, upgraded equipment and expanded capabilities to offset the years (decades?) of underfunding and staffing. We are still short 24 to 40 officers for our population size and there is no logic to underequip the force on top of that.

It appears the council has accepted current budget year cuts of $2.2 million and much of the borrowed $3 million is still sitting around doing nothing for the purpose it was approved for. Also, $2 million in sales tax money we hadn't expected has accrued and is unobligated to any projects, or so we are told. One council member basically inferred we are waiting to see the other shoe drop, meaning that something must be coming along that is going to eat up this money.

It was interesting to see several council members praise the mayor for making these cuts. Some of these same council members were on my case and other council members who were pushing for $2 million in cuts last May and June during the budget process. Those council members stated then how the budget was balanced (with $3 million borrowed to do so) and that the mayor and department heads would only have asked for what they needed. Interesting how their tunes have changed.

In the meantime a new fire station is needed in the Exit 1 area and one near Exit 8 has been discussed in the past.  We need more officers and equipment and the police have cited a need for a "shoot house" (training facility) and a new armored tactical vehicle.  Each will cost several hundred thousand dollars at a time when it seems we can't buy patrol cars.  Streets need paving and more parkland needs to be bought before development gets it all.



Clarksville Marina
The council voted 12-yes to allow the marina operator to repay improvements the city made for the operation. The payback is for 5 years and includes the principle and interest charges the city has to pay. You should see parts of the marina afloat within the next 10-14 days if the weather holds.
Ethics Issue
The agenda had a late addition that required a ¾ approval vote of the council to address which it did receive. The council went into a closed session on an ethics claim due to the potential for legal action. I can't give details except to say that the city will contract with an attorney to investigate charges of ethics violations against members in a city department and a council member (not me) was mentioned in the complaints. The chosen attorney is to have had no previous contact or work with the city or with any official of the city.
About Bill Summers
Bill Summers is the City Councilman for Ward 10 in Clarksville, TN.


Disclaimer: The views and opinions expressed by the author are not necessarily those of the City of Clarksville or Clarksville Online.

Web Site: http://www.cityofclarksville.com/
Email:
Sections
Politics
Topics
City Council Ward 10, City of Clarksville, Clarksville city budget, Clarksville City Charter, Clarksville City Council, Clarksville Marina, Clarksville Mayor, Clarksville Police Department, Clarksville Street Department, Clarksville TN, CPD, Drivers License, Kim McMillan, Madison Street, Rezoning, Richview Drive