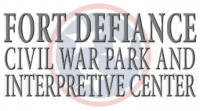 Clarksville, TN – Yesterday, author Lt. Col. Tom C. McKenney USMC Ret. was in Clarksville signing copies of his books at the Fort Defiance Visitor's Center, signing copies of two of his books, "Jack Hinson's One Man War: A Civil War Sniper" which was the result of over fifteen years of research, and presents the never-before-told history of Jack Hinson's reluctant but relentless one-man war against the Union Army after they executed his two sons; and a British book "The Sniper's Anthology" which he contributed to.
McKenney first became interested in the Hinson story after photographing Kentucky State Historical Marker 881, a historical marker about Hinson located in Land Between the Lakes on US 68 & KY 453, in Trigg County Kentucky; it was soon forgotten.
15 years later after suffering a stroke McKenney was forced to take a month off work. While thinking about what to do in order to occupy his time, he remembered the marker he saw so long ago. So he went to the state archives in Lexington, Ky to look up the marker, finding the file that the Marker was based on. For the rest of the story as they say you can read his book.
Photo Gallery
About Jack Hinson's One Man War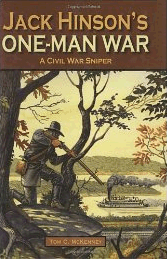 Jack Hinson never planned to become a deadly sniper. John S. "Old Jack" Hinson watched the start of the Civil War with impartial disinterest. A friend of Ulysses S. Grant and Confederate officers alike, Hinson was opposed to secession, focused instead on his personal affairs. A prosperous and influential plantation owner in the 1850s, he was devoted to raising his growing family and working his land.
That all changed after a unit of Union occupation troops moved in on his land and summarily captured, executed, and placed the decapitated heads of his sons on his gateposts forcing Hinson into abandoning his quiet life for one of revenge. By the end of the Civil War, Hinson had likely killed more than one hundred men and had single-handedly taken down an armed Union transport in his one-man war against Grant's army and navy, forcing the Union into committing infantry and cavalry units from nine regiments and a specially equipped amphibious task force of marines in an attempt to capture Hinson, who was by that time nearly sixty years old. They never caught him. Since then, the story of Jack Hinson has evaded astute historians, and until now, he has remained invisible in the history of sniper warfare.
In this unprecedented and incredible biography, Lt. Col. Tom C. McKenney masterfully recounts Hinson's extraordinary feats as a lone Confederate sniper. Equipped with a rifle he had specially made for long-range accuracy, Hinson became a deadly gadfly to the occupying army. An exemplary piece of historical scholarship and the result of fifteen years of research, this definitive biography includes an amazing cast of characters including the Earp Brothers, Nathan Bedford Forrest, and Jesse James, the cousin of Hinson's wife. This breathtaking story was all but destroyed by the obliterating forces of history and is the only account in print chronicling this one man's impact on the Civil War.
About the The Sniper's Anthology
The Sniper's Anthology is a book about the top snipers of WWII. Revered by some as the ultimate warrior and condemned by others as ruthless assassins, the combat sniper is more than just a crack shot. This collection of biographies, written by leading military historians, explores the careers of the top snipers of World War II. Snipers are highly disciplined, calm professionals skilled in marksmanship, reconnaissance, and camouflage.
The remarkable stories of ten combat snipers of the Second World War are told by military men aptly skilled to do so. Drawing on firsthand accounts that have never been published, the authors supply details of their subjects to give graphic insight into each sniper's skill. As well as providing incisive technical information, authors offer a glimpse of the character and personality of their chosen snipers, giving them a human face. The list of snipers includes World War II's most accomplished fighting figures such as Finland's Simo Häyhä; Germany's finest shooter, Sepp Allerberger; Russia's famed Vassili Zaitsev and Lyudmila Pavlichenko; and America's Bert Kemp. These stories detail the bitter cold in which Eastern Front snipers Zaitsev and Allerberger often fought; the stinking, steaming jungles where Japanese snipers lost their lives atop palm trees; tales of personal revenge that drove Pavlichenko; how Häyhä applied his skills as a moose hunter and skier to become World War II's deadliest sniper; and how West Tennessee farmer Bert Kemp used his amazing ability for precision and almost supernatural marksmanship to become one of America's unsung heroes. These gripping, in-depth narratives go beyond the cursory treatment in existing histories and are essential reading for anyone wanting to learn about the role and technique of the sniper during the Second World War.
The authors are as impressive as their subjects. They represent a collaboration of today's greatest sniping authorities. Sgt. Maj. Mark Spicer is a retired British sniper instructor considered one of the world's top sniping experts. Adrian Gilbert has authored several major books about snipers and sniping. Lt. Col. Tom C. McKenney is a combat veteran and author of the best-selling book Jack Hinson's One-Man War, the story of a Civil War sniper. Tim Newark is the former editor of Military Illustrated. Martin Pegler is the former curator of firearms at the Royal Armories and a regular militaria specialist on BBC's Antiques Roadshow. Leroy Thompson is the author of numerous articles on tactical weapons including sniper rifles. Other authors include: John B. Tonkin, Dan Mills, Roger Moorhouse, and Charles W. Sasser.
About Tom C. McKenney
Lt. Col. Tom C. McKenney USMC Ret. is a graduate of the University of Kentucky and the University of North Carolina at Chapel Hill. He served an infantry officer and parachutist in the U.S. Marine Corps, in both Korea and Vietnam. A student of military history, he has contributed articles to various periodicals and has written several books on a variety of subjects, including Jack Hinson's One-man War. He is an advocate for American Prisoners of War and has appeared on hundreds of radio and television programs to discuss veterans' issues and his personal experiences. He has served as an instructor in biological sciences. He and his wife currently live in Long Beach, Mississippi.
McKenney's own war stories are featured in the book Spite House: The Last Secret of the War in Vietnam, by former 60 Minutes producer Monika Jensen-Stevenson, and the rights to his life story have been purchase by Columbia Pictures.
About Bill Larson
Sections
News
Topics
book signing