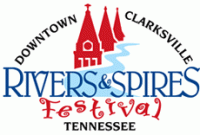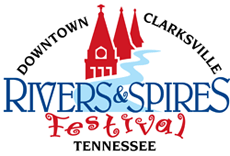 Clarksville TN – The 'Wounded Warrior Welcome Project' was formed in 2011 to welcome home injured soldiers who were returning to Middle Tennessee. The Project has organized welcome home more than a half dozen soldiers returning from their stays at Army Medical Hospitals in DC and Texas.
In addition we made 4 trips to Walter Reed Medical Hospital in 2011 and will be making 2 more this year.
This Friday, the 20st of April, the Wounded Warrior Welcome Project and the 101st Airborne Division Association, will be teaming up with 'Wall to Wall' to welcome two wounded warriors to Clarksville during Rivers and Spires. The riders of Wall to Wall will arrive at the main stage of Rivers and Spires at 9:30pm on Friday the 20th of April, 2012 for special presentations.
The Wall to Wall Cross Country Bicycle Ride is a 4,263 mile journey across the southern half of the United States by two Iraq War Veterans. Wesley Barrientos who is a 3 time Iraq War Veterans and a 3 time Purple Heart Recipient and a Double amputee. Jeremy Staat who is retired NFL Player, a United States Marine, friend and former teammate of Pat Tillman's and an Iraqi War Veteran will be riding a standard bicycle and hand crank bicycle across our great nation. Visit their website and track their progress at www.walltowallbicycleride.com.
"The sacrifice that these men have made for our Nation is something we will never be able to repay. The fact that they are taking on such a huge mission with this bike ride is a reflection on the strength and character of these Heroes. I want to encourage our entire community to welcome them Clarksville." – Clarksville City Councilman Nick Steward
Staat and Barrientos are setting set out to inspire and motivate Americans of all ages with four causes: (1) awareness and support for United States veterans through veteran organizations; (2) veteran suicide awareness; (3) the need for veteran centers on all U.S. college campuses; and (4) childhood obesity awareness.
The riders of Wall to Wall will arrive at the Public Square Stage stage of Rivers and Spires at 9:30pm on Friday the 20th of April, 2012.
About Wall to Wall
Our overriding purpose is to raise awareness of and support for our Nation's Veterans, Veteran organizations, Veteran suicide awareness, and to promote Veteran centers on all college campuses throughout our Nation. Given the fitness qualities that bike riding imparts, we have a secondary motive of drawing attention to the increase in childhood obesity, and most importantly how this epidemic can be prevented through good lifetime fitness activities, specifically bike riding.
Visit their website at: www.walltowallbicycleride.com