Clarksville Roller Derby League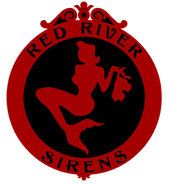 Clarksville, TN – Clarksville Roller Derby's Red River Sirens presents "Daughters of Mayhem" the 2nd Home Bout of this Season.
The Red River Sirens will be taking on the Rollergirls of Central Kentucky(ROCK) on Saturday, May 12th at Magic Wheels, 1671 Fort Campbell Boulevard. Doors open at 6:00pm and the action begins at 7:00pm.
Tickets are $10.00 at the door, $8.00 in advance at Magic Wheels Monday and Wednesday 6:00pm-8:00pm. Children aged 12 and younger admitted free with a paying adult.
Attendees are invited to join the Team in the middle of the floor during halftime with their Moms for a Mothers Day Dance and a small surprise from the skaters. So Bring Your Mothers for a Blast from the past… though This Is Not Your Moms Roller Derby!
Then follow us to The Warehouse, www.thewarehouserocks.net, for our After Party with live Bands to ring in the fun. $10.00 at the door $3.00 off with wristband.
In keeping with the modern roller derby custom of community support, Red River Sirens are teaming with Cats Are Us, www.catsareustn.com. A portion of the proceeds from the event will be donated this charity.
A beer garden will operate just outside the skating facility, and soft drinks and snacks will be available as well.
About Clarksville Roller Derby League
Clarksville Roller Derby League formed in 2010 to promote roller derby as a sport, to organize roller derby teams, and to nurture self-confidence in women by developing teamwork and athletic ability while encouraging individuality within a culture of discipline, sisterhood and stewardship through training of the competitive sport of roller derby.
The league operates under the guidelines of the Women's Flat Track Roller Derby Association (WFTDA) and is run completely by volunteers. The team's website is www.ClarksvilleRollerDerby.com.
About Roller Derby
Roller Derby is an American-made contact sport that originated in the early 1900s. The sport was highly popular in the 1970s when professional matches were televised and the sport shared a reputation for staged action. Today's game, which involves higher levels of strategy, is currently regaining popularity all over the country. Teams are currently active in Nashville, Memphis and Knoxville.
Roller Derby is experiencing a resurgence of popularity. Today's teams are all-female, self-organized, and feature athleticism and campy outfits. Men are welcome to participate as coaches, referees, announcers and in team support roles. The sport is governed by the rules of the Women's Flat Track Derby Association (WFTDA), which sets the rules and determines the baseline skills required of participants. Visit www.wftda.com for more information.
About Cats Are Us
Cats Are Us is a registered 501(c) (3) non-profit organization founded in December 1997. They are an all-volunteer rescue and adoption agency located in Clarksville, Tennessee, about 50 miles NW of Nashville near Fort Campbell, KY. They do not euthanize healthy animals and will give them a safe, caring home until they are adopted.
Since their inception, they have rescued thousands of animals. While they specialize in cats, they have accommodations for several dogs. they currently care for approximately 150 cats and several dogs. They rely solely on donations and volunteers to keep their animals happy and healthy.
Your donations are tax-deductible and very much needed and appreciated. To learn more about how to help them continue their mission visit their Web Site at www.catsareustn.com.
Cats Are Us
119 Providence Boulevard
Clarksville, TN 37042
Open Monday thru Saturday 8:00am to 11:30am
Phone: 931.624.1050
Email: CatsAreUsTN@aol.com