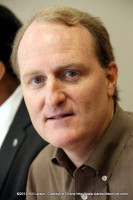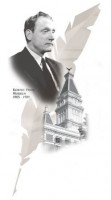 Clarksville, TN – This was Dr. A. Scott Pearson's second appearance at a Clarksville Writer's Conference. He debuted his first book, Rupture, in 2010. Just before the 2012 Conference in Clarksville, Dr. Pearson's Benjamin Franklin Award for Mysteries was announced by the Independent Book Publishers Association at a ceremony at the Marriott Marquis Hotel in New York on June 4. This was awarded for his second novel, Public Anatomy, introduced in March, 2011. Independent Book Publishers Association (IBPA), is the largest not-for-profit representing independent book publishers.
A surgeon on the faculty and staff at Vanderbilt in Nashville, Dr. Pearson also is a member of the Interdisciplinary Group at the Robert Penn Warren Center for Humanities. Dr. Pearson teaches a class entitled "Narrative Medicine: Stories of Illness and the Doctor-Patient Relationship" to teach medical students this patient-centered concept when they enter the fast-paced, technological race that defines today's medicine.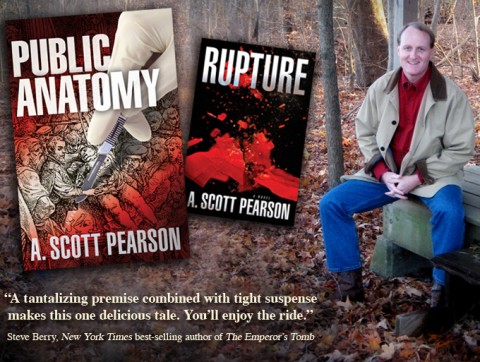 Public Anatomy again features Eli Branch, the physician who had his debut in Rupture. Branch encounters Dr. Liza French, a colleague he hasn't seen in ten years. Liza uses their past to entice Eli into her turbulent world where her career is in jeopardy at a Memphis hospital.
A forensic pathologist, Dr. Meg Daily, who was also featured in Rupture, aids Eli in uncovering a pattern to the escalating deaths and the search begins for the killer who the media and the city come to know as The Organist. Clues lead Eli to a sixteenth century manuscript by an anatomist whose methods of dissection are over four centuries old – but are being reenacted in the present.
Public Anatomy needs to be on your reading list right after Rupture. Dr. Pearson is to medical mysteries what John Grisham is to legal ones.
Dr. Pearson talked with writers at the Clarksville conference not only about writing his novels but about the need for teaching medical students to listen to the patient. In spite of all the new technology in medicine, the patient's story is still essential in healing.
He gave the example of a 30-year-old man with acute abdominal pain. No evidence of appendicitis was found but he was rushed to the operating room since doctors feared peritonitis was evident. The pain had started about 12 hours before he entered the Emergency Room, just about the time he swallowed a toothpick that was found lodged in his intestines.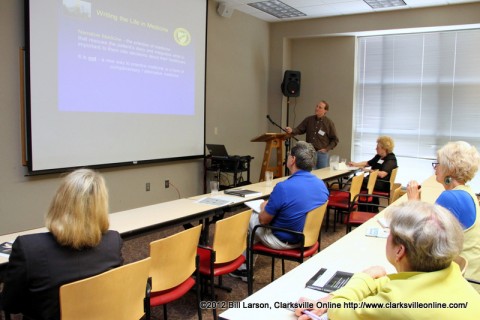 A 62-year-old man had similar abdominal pain but had had a history of psychiatric difficulties. He had asked the physicians if the pain could have had anything to do with the pills he had been taking, but they were certain the pills were not responsible until they discovered internally that he had been taking the pills without removing the metal wrappers.
Dr. Pearson said that physicians write constantly—progress notes, clinic notes, notes to referring physicians, e-mails, letters to insurance companies, etc. Literature has a long history of physicians who also wrote novels—Robin Cook, Michael Crichton, Michael Palmer, and many others.
He quoted W. Somerset Maugham as saying that there are three rules for writing a novel, but unfortunately no one knows what they are.
Dr. Pearson related that the three phases for writing a novel for him were: (1) the solitary, boring part of the actual writing; (2) publishing—and he assured his audience that getting into medical school was easier than this phase; and (3) the promotion and marketing when he actually gets to speak with his readers.
"Readers can truly read your book so closely that they can find any error you have made," he said. One reader pointed out that in Rupture Dr. Pearson said that a Honda "fish-tailed." Hondas can't fish-tail because they have front wheel drive, the reader chided.
Dr. Pearson's character, Eli Branch, works in Memphis because Dr. Pearson himself went to medical school at the University of Tennessee, Memphis, and is familiar with the setting on a first-person basis.
He said that one of his greatest moments came on March 8, 2011, after a book signing at Davis-Kidd (a famous bookstore in Nashville that has now gone out of business), when he was told that his Public Anatomy was number one on the Fiction Best Seller List with John Grisham's most recent book as number two.
D
r. Pearson said that the night before he was to appear on "A Word on Words" on PBS, he was reading through his books again. His wife asked him why he was doing that. Dr. Pearson said that John Siegenthaler asks the most detailed questions about every aspect of the book—and never uses any notes!
The picture on the front of Public Anatomy shows a plate from De Humani Corporis Fabrica Libri Septum (On the Structure of the Human Body), published in 1555 and written by Andreus Vesalius, a surgeon to kings of Spain and France. Prior to this time, knowledge of the human body was based on dissections of dogs and monkeys since it was forbidden in ancient Rome to dissect a human being. The picture shows the public dissection of a female who had been hanged. She had claimed that she was pregnant and because Vesalius insisted that only by dissecting a human being could accurate information be gained, human dissections were of criminals recently removed from the gallows. Anyone could view these dissections which were held in the open on a stage constructed with bleachers to accommodate the crowds.
A page from this book is featured in Public Anatomy when it is discovered next to a murder victim. Eli Branch is called to the scene of the murder to assist police when this is discovered.
A. Scott Pearson is not only a highly respected surgeon, he is an author that everyone should know. Don't miss his books.