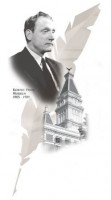 Clarksville, TN – Marshall Chapman, born in a prominent South Carolina family and groomed to become a socialite, bolted from her confining future to make waves in the world of rock 'n' roll during and after her years at Vanderbilt University. Some of her 400 songs have been recorded by people like Jimmy Buffett, Emmylou Harris, Olivia Newton-John, Wynonna Judd, Sawyer Brown, Conway Twitty — and the list goes on and on. Her "Rode Hard and Put Up Wet" was featured in the movie Urban Cowboy.
Marshall Chapman spoke and sang at this year's writers' conference in honor of her dear friend, William Gay, who died this past February. The conference itself was dedicated to William, who had been a central speaker at the conference for the past several years. Marshall told her stories and sang her songs with intimate details of her friendship with William and introduced songs from her new album, Big Lonesome, named by The Philadelphia Inquirer "Best Country/Roots Album of 2010."
Marshall has written two books, neither of which is to be missed by anyone who wants to read a good story and have a good laugh and cry throughout. She is witty, sincere, a genuine teller of interesting tales, and will touch your heart on every page. Her emotions are raw and she doesn't hold back a thing. She treats herself with honesty and no holds barred. You love her truthfulness and can't wait for whatever she's going to say next.
She had the audience at Clarksville Writers' Conference rolling in the aisles with her portrait of William Gay. Her first sentence was, "Y'all, I'm going to say two bad words so just raise your hand if you're going to be offended and I'll do my best to clean it up a little. One of the bad words is mine and one is William's, so just show me your hands if you don't want to hear it!" Not one hand went up!
Watch the video with this article to see what she said after that because there is no way I can do her justice with words—Marshall is an original who defies description.
The lyrics of Marshall's songs can teach you the lessons of life as she has experienced them throughout the gamut of emotions. From "So be your own parent/ And treat yourself good/ It's never too late/ To have a happy childhood" ("Happy Childhood" with Terri Sharp, 1990) to "You hang around me like a bad debt/ You haven't taken out the garbage yet," (1984, you can ride the world with Marshall and never look back. Here's a woman who writes her songs with a number two pencil and logs her dreams with a pen.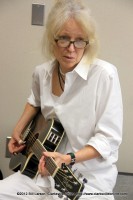 On Friday, October 29, 1993, Marshall and the Love Slaves played the maximum security compound at the Tennessee State Prison for Women; the show, originally an hour-and-a-half free performance, was recorded and then the encores began. The album, It's About Time…, (Island/Margaritaville, 1995) gleaned rave reviews from Time,USA Today and the Village Voice.
Before and during that visit to the prison, Marshall learned that at that time, 52.6 percent of the inmates were white, 47 percent were black and less than half of one percent were Hispanics and Native Americans. She eventually became pen pals with Gaile Owens who had been sentenced to death in 1986 for hiring someone to kill her husband. Ms. Owens has since had her sentence commuted and released after serving 26 years.) Marshall also learned that more than 80 percent of the women in prison at that time had children whom they rarely got to see.
The warmth of the response Marshall receive that night at the prison was reflected in both the genuine applause and the letters she received not only from the warden, John Organ, and the 200 inmates who were in the audience.
When Marshall went home the night after the prison gig, she reported in her first book, Goodbye, Little Rock and Roller (titled from one of the songs she sang at the prison that night), that she curled up on the sofa with Chris Fletcher (her husband) and cried and cried. When Chris asked why she was crying, she said, "It's just they're locked up in their cells now, and…well…I miss them."
You can see why no words can do justice to Marshall Chapman.
Marshall's first book, Goodbye, Little Rock and Roller (St. Martin's Press) was a SIBA bestseller, 2004 SIBA Book Award finalist, and one of three finalists for the Southern Book Critics Circle Award.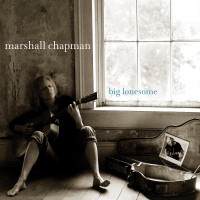 Marshall's latest album, Big Lonesome, was written after the death of her friend and fellow songwriter, Tim Krekel. They had planned a tour to Mexico but his short battle with cancer ended in June, 2009. Marshall decided to go alone and ended up writing some of her best music ever. The album has eleven songs, every one of which is great. She talked about several of them during her visit to the writers' conference and sang each following the story of its background.
Her new book, They Came to Nashville, was recently nominated for the 2011 SIBA Book Award for nonfiction. In this book, she discusses song writers who have been and are still her friends. When she was going to interview Willie Nelson, she found him on tour and coming near her house on his route. When he offered for her to ride on the tour bus with him, she first refused "being a bit agoraphobic," as she put it. After she called Chris to tell him, he insisted that she call Willie back and get on that bus—a lifetime opportunity. She went and said it was definitely a heady experience. "You didn't have to be smoking to get high," she reported.
http://www.scribd.com/doc/57787403/They-Came-to-Nashville
Another statement form her first book pretty much nails it, "When you're going in style, it doesn't matter where you're going."
Marshall talked about the death of her only brother during her speech in Clarksville. She prefaced it by telling that her mother felt that she was in for a long haul with his education when her only son, Jamie, came home from first grade and she asked him how his day went. He said, "Mama! You're not going to believe it! Mrs. Turner's girdle is so thick that when I stuck her in the fanny with a pencil, she didn't even feel it!"
Marshall Chapman suffered through some intense and not necessarily pleasant relationships with various men before Chris came into her life. She walks into a room in an unassuming way and before she leaves, she's made a new friend of everyone who hears her. She's someone who can take an ordinary day and turn it into a never-to-be-forgotten experience.
She's learned a lot along the way, not the least of which is, "After all, happiness is wanting what you have, not having what you want."