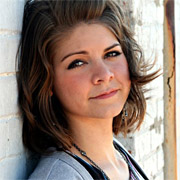 Clarksville, TN  –  Clarksville's own musical prodigy, Lydia Walker is quickly becoming a household name. The songstress has performed at numerous festivals, events, coffee shops, churches, and colleges in the Middle Tennessee and Southern Kentucky regions.
Lydia has taken the stage hundreds of times, sharing her songs of faith, hope and love with all who would listen. Now Lydia is bringing her music – and her interviewer insights  – to a bi-weekly one-hour radio broadcast.
Starting in July, The Lydia Walker Show will air on WVRY 105.1 FM every Tuesday and Friday from 11:00am-Noon. Walker will be performing her own music, as well as interviewing other Christian musicians and people of interest to the audience of WVRY 105.1 FM. The show will include feature topical discussions and devotionals.
Twenty-year-old Lydia has been playing music since the age of twelve. Her heartfelt faith and message of hope comes through in her music and songwriting. Walker is considered a role model for young girls and aspiring musicians. Lydia's desire is to encourage others to reach for their dreams.  Potential show sponsors may contact Lydia Walker's management at 866.672.9034.
For information see www.LydiaWalkerMusic.com .