I think at this point we are wondering why our natural water has been shut off! Well, unfortunately it is just that time of year around the country and not just in Tennessee. So, with water restrictions authorized in many communities, how can we salvage our landscape and garden plants? I have a few tips for you!
The big question seems to be "how much water is required" to be sufficient? That question does not have a simple numeric answer as there are too many variables such as plant type, kind of planting medium (or soil); amount of wind, amount of foliage, size of containers, and the list goes on and on. What I can tell you is that a deep thorough watering once a week is much better than a sprinkle baptism every afternoon. You want your plants to grow deep roots, so make sure you are soaking the ground to a depth of 4 – 6 inches. Carol Reese, UT Ornamental Horticulture Specialist -Western District says to remind folks that wilting is not always a sign that plants need more water. Many plants wilt midday no matter how wet the soil or media, because the plant cannot supply moisture to the leaf as fast as it loses it through transpiration. Always check soil, do not rely on wilted foliage as signal to turn on water.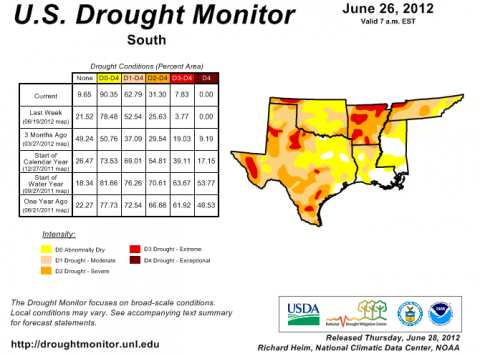 For nurseries and garden centers Mark A. Halcomb, UT Area Nursery Specialist-Warren County Extension recommends two or three shorter periods (cyclic) of overhead irrigation for containers. These 3-15 minute periods of irrigation may be as effective as one 60 minute period. If you have the staff available, irrigating by hand would prevent the loss of water between pots. Also, sitting containers down in sawdust, wood chips, or other mulch material will reduce water demand. Move plants closer together and turn off unneeded overhead sprinklers. Additionally, Reese recommends that if there is any way to get shade on the plants that would help with water use. Even sunloving plants can tolerate the lighter versions of shade cloth for the nurseries. Rearranging plants so that taller plants shade smaller species, or even just keep some of the hot sun off the black containers is helpful by grouping plants more tightly.
What time of day is best to water? It is preferable to water early in the morning or mid-evening. Typically winds are lower in the morning, humidity is high and temperatures are low. This is the ideal time to maximize water usage and minimize loss to evaporation. Remember, the roots are in the top 6 – 12 inches of the soil, so that is where the water needs to be applied. Again, watering in short intervals allows the water to soak into the ground and not run off. Unfortunately, just in the last few days of 100 plus Degree temperatures I have seen people out hand watering and/or sprinklers running in the heat of the day. This is not a water-wise practice!
Mulch is an excellent way to conserve moisture and stabilize soil temperatures. In my vegetable garden I use a layer of newspaper with straw on top. This helps hold in the soil moisture and also prevents weeds. I have also been experimenting with "composting as you go" as I call it. I take my kitchen compost to the garden, dig a side trench and then bury that compost with soil. This adds some moisture to the soil and it will all be tilled in eventually. So far this has worked well. Also, as I harvest I lay the excess plant material back into the rows as mulch. Leafy greens, beet leaves etc. make great mulch between rows of peppers and tomatoes. As one vegetable comes out I plant another behind it to take its place even if it is just flowers, greens or excess seed packets and that all gets tilled in at the end of the season (sort of a green manure crop).
Care of trees and shrubs in the landscape is a little different than with a vegetable garden. Newly planted trees (planted late winter-early spring) need to be watered often during the growing season. The "best" time to plant trees and shrubs is in the fall; however many are planted in early spring. Saturate the ground to about 8 inches deep out to the drip line of the tree or shrub every 3 – 5 days throughout the growing season. Thoroughly moisten the soil at each watering, and then allow plants to extract most of the available water from the soil before watering again. There are a variety of tree watering bags and devices available in which you fill with water once or twice a week and it slowly releases the water through small holes. You can also take a 5-gallon bucket, punch some holes in the bottom, place under the tree and fill it with water 2-3 times a week.
Water needs vary considerably among the turf-grasses. Consider this when establishing a lawn, for it may significantly reduce irrigation needs during the summer. Another option is to reduce turf areas entirely by creating mulched areas, perennial beds and paths. Commonly recommended cool-season tall fescue varieties require the most water while warm season grasses such as St. Augustine, hybrid bermudagrass and common bermudagrass have intermediate water needs. Like trees and shrubs, cool-season grasses are best planted in the fall rather than spring so that they will have time to establish their roots system before having to endure our hot, dry summers.

As we teach in our Extension programs, with a little forethought and planning, you can have a beautiful yard without all the expense and time involved, a landscape you will truly enjoy, while helping conserve Tennessee's water. The concept is simple, really. You steer away from shallow-rooted plants and select ones with deeper roots that do a better job retaining runoff. You choose plant varieties that thrive in your region so they need less care and water. The idea is to get in sync with your surroundings – your soil type, the dips and rises of your land, the native wildflowers —all the natural features around your home.
"For many of us, water simply flows from a faucet, and we think little about it beyond this point of contact. We have lost a sense of respect for the wild river, for the complex workings of a wetland, for the intricate web of life that water supports." – Sandra Postel, Last Oasis: Facing Water Scarcity, 2003.