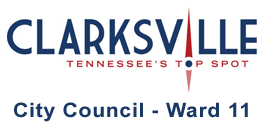 Clarksville, TN – Clarksville City Councilwoman for Ward 11 Kaye Jones will hold her monthly Town Hall meeting on Monday, July 30th at 6:30pm at Clarksville Gas and Water Admin building at 2215 Madison Street.
The discussion will be about the Agenda for next weeks council meeting, and addressing any issues that you might have. I believe there is going to be some re-zonings on the agenda this month, one being on Clearview, and possibly others.
If you have not had an opportunity to go out and see our new Airport Terminal, I encourage you to do so. It is truly something we can be proud of!