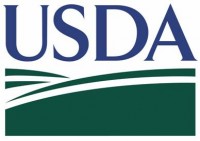 Washington, D.C. – During the last week, much-needed rain developed across the northern and eastern Corn Belt and continued in the Southeast, stabilizing or even improving crop and pasture conditions.  In the Midwest, some of the heaviest rain (locally 2 to 4 inches) fell from southern and eastern Wisconsin into Ohio.  Substantial rain (at least 2 inches) also extended into the northern Mid-Atlantic States.
Meanwhile, a second consecutive week of widespread Southeastern showers further revived pastures and aided immature summer crops.  Weekly totals in excess of 4 inches were noted in the central Gulf Coast region and parts of the interior Southeast.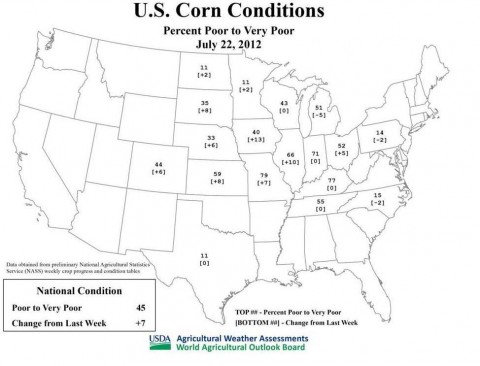 Farther west, however, mostly dry weather and triple-digit heat gripped the Plains and the western Corn Belt.  The shift of heat into the western Corn Belt could not have come at a worse time for corn and soybeans entering the reproductive stage of development—similar to what happened in late June and early July across the lower Midwest.
During the week ending July 22nd, the portion of the U.S. corn crop rated in very poor to poor condition climbed to 45%, according to USDA's National Agricultural Statistics Service.  Soybeans rated very poor to poor rose to 35%.  Such ratings for both commodities have increased for seven consecutive weeks; on June 3rd, just 5% of the corn and 6% of the soybeans were rated very poor to poor.
During the same period, from June 3rd to July 22nd, the portion of the U.S. corn rated good to excellent plunged from 72 to 26%.  Soybeans rated good to excellent fell from 65 to 31%.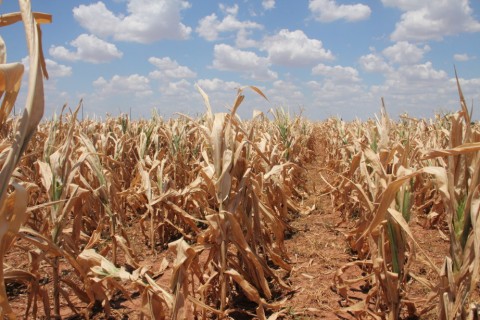 The current corn and soybean ratings represent the lowest conditions at any time of year since 1988.  That year, corn rated very poor to poor peaked at 53% on August 21st, while soybeans rated very poor to poor peaked at 37% on July 10.
Weather Outlook
Unfavorably hot weather will persist through mid-week across the Plains and Midwest.  During the second half of the week, however, markedly cooler air will overspread the northern and central Plains and the Midwest.  Prospects for Midwestern drought relief will improve this week, especially in the northern and eastern Corn Belt.  Five-day rainfall totals could reach 1 to 3 inches, with locally higher amounts, from the Dakotas to Michigan, Indiana, and Ohio.  However, only light showers can be expected across the southwestern Corn Belt, from Nebraska to southern Illinois.  Unfavorably dry conditions will also persist on the central and southern Plains.
Visit www.usda.gov/drought for the latest information regarding USDA's Drought Disaster response and assistance.