Austin Peay State University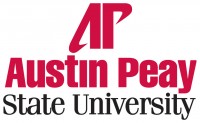 Clarksville, TN – When W. Riley Braem ('10) first arrived at Arizona State University to pursue a Master of Fine Arts degree in theater, the school's faculty challenged him to look deeper within himself to discover what he really wanted to do with his degree.
Braem immediately thought about Camp MARC, a summer camp for the mentally and physically handicapped where he has volunteered every year since he was 13.
He served as a counselor at the camp even during his time at Austin Peay State University, where he earned a bachelor's degree in communication arts with an emphasis in theater. Now, with his M.F.A., he had the opportunity to combine his love of theater with his passion for helping this special needs community.
"Basically, what my thesis is going to focus on is developing a curriculum for theater education programs that take into account all of the issues that come along with working with these populations," he said.
Specifically, Braem is wanting to create a program that allows individuals who fall under the autism spectrum of disorders to participate comfortably in drama classes.
"Drama helps kids develop social skills, which is something kids on the autism spectrum lack," he said. "These are the skills that you get naturally by participating in theater and drama."
But elements of these classes can often act as "triggers" for students with autism, making it difficult for them to participate.
"A lot of them have sensitivity to sight, sound, smell," he said. "People are not aware of it, so it becomes really hard and intimidating to teach these classes. That's where I come in, and I basically talk to the education staff and let them know some training that might be valid for them."
But developing social skills is merely an added bonus, Braem said, for the type of program he's developing. As an artist himself, he's more concerned with these students appreciating the beauty of the craft.
"I approach it a little differently than most special education experts and most psychologists," he said. "My main goal in doing this is that they deserve to experience the art as well."
Braem hopes to finish his thesis this year and graduate in the spring. But he is already putting his research to work.Earlier this year, he joined the First Stage Theater Academy in Milwaukee, WI as a lead teaching artist for the school's Next Steps program. The academy specifically serves children with high functional autism and Asperser's Syndrome, and the Next Step classes push those individuals to take "their next steps" as artists.
For more information on Braem, contact the APSU Area of Theatre and Dance at 931.221.6767.