APSU Sports: Austin Peay Men's Golf

Pawleys Island, SC – Austin Peay State University men's golf team moved, Monday, but not in the direction the Govs hoped during the second day of the GolfWeek Program Challenge, being played at the True Blue Golf Resort.

After shooting an opening-round even-par 288, the Govs could muster only a 4-over 292 second-round score on the par 72, 6940-yard course. As a result, the Govs slipped into a sixth-place tie with a two-day 580 total.

Campbell leads the tournament at 572, followed by the Govs' Ohio Valley Conference rival Jacksonville State at 574. James Madison (576), Troy (577) and Central Arkansas (578) are ahead of the Govs and Missouri-Kansas City.

"We didn't play that well today," APSU coach Kirk Kayden said. "We had some mental mistakes out there, in particular on one hole. Number 4 is a par 5 over water. You can reach the green in two but if you go left, the ball will end up in the water.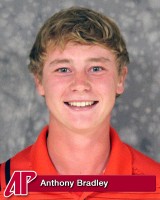 "We had a triple and a quad on that hole today-it was a costly, costly hole for us. In a tight tournament field like this, four to six shots can be the difference sixth or seventh and the top three."
Junior Anthony Bradley, who was the OVC tournament medalist last spring, led the Govs with a 3-under- par 69 to sit in a fifth-place with a two-day 4-under 140. Bradley is one of those who avoided trouble on No. 4 to collect a birdie, one of four on the day as opposed to just one bogey.
Senior Dustin Korte, who had a 69, Sunday, was one of those who struggled on No. 4 with a triple bogey. He scrambled back with a 1-over 73 to sit with an overall 142, tying for 10th. In fact, Korte was 3-over at the turn and played the back side at 2-under 33, finishing the round with a birdie on 18, one of three on the back nine.

The Governors' other top returning junior, Marco Iten, struggled all day long. He had a quartet of birdies and bogeys. His round was undone with a triple bogey on No. 7 and a double on No. 16.

Redshirt freshman Corey Smith, bouncing back from first-day 76, shot a 1-over 73, playing the final nine holes at par.

Freshman Chris Baker, however, wasn't as fortunate. He was one of the Govs golfers to find the water at No. 4, resulting in a quadruple bogey. He also had a double bogey at No. 10. He did have three birdies in the round, finishing with a 79.

"Anthony played well today," Kayden said. "He hit a lot of fairways and green.

"Dustin really fought back to get it down to just 1-over after the triple at No. 4. Marco made some mental mistakes that cost him…And I thought Corey, after the nerves got to him a little bit on the first day, really played good, consistent golf today."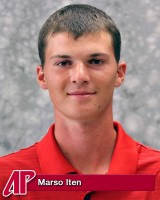 Although the Govs battled through a frustrating Monday and are eight shots off the pace heading into the final day, Kayden still is optimistic his Govs can bounce back.
"We again had to count a mid-70s score and that hurt us today," Kayden said. "We have some catching up to do. Still we are just eight shots back heading into the final day and we have not come close yet to playing our best golf.
"Certainly, it is doable. We were nine shots down at Kentucky last year and won. We need our Top 3 to play like they are capable and get another good score from our No. 4 or No. 5."
After Tuesday's final round is completed, men and women's team champions will be crowned. But so, too, will be the Program Challenge winner – the school (both men's and women's teams) that has the lowest cumulative score.
Sections
Sports
Topics
Anthony Bradley, APSU, APSU Athletics, APSU Golf, APSU Men's Golf, APSU Sports, Austin Peay State University, Campbell, Central Arkansas, Chris Baker, Corey Smith, Dustin Korte, Golfweek Program Challenge, Governors, Govs, Jacksonville State, James Madison, Kirk Kayden, Marco Iten, Missouri-Kansas City, Ohio Valley Conference, OVC, Pawleys Island SC, Troy, True Blue Golf Resort