Broadway and MTV Star Bailey Hanks Takes on Dolly Parton's Role

Clarksville, TN – Broadway and MTV star Bailey Hanks* leads the pack of plays and musicals in the Roxy Regional Theatre's 30th Season with 9 to 5: The Musical, opening Friday, September 14th, at 8:00pm.
Hanks, the winner of MTV's "The Search for Elle Woods" and star of Broadway's Legally Blonde, takes on the Dolly Parton role in this hilarious musical comedy based on the film also starring Jane Fonda and Lily Tomlin.  Outrageous, thought-provoking and even a little romantic, 9 to 5: The Musical tells the story of three unlikely friends who, even in a man's world, prove there's nothing they can't do!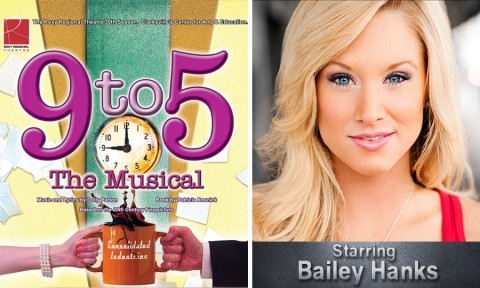 "9 to 5" also features Lital Abrahams (recently off of a Legally Blonde run alongside Hanks) as Judy, Amanda Morgan (last seen on the Roxy stage as Elsa in The Sound of Music) as Violet, and Colin Ryan (who made his Roxy debut last season as Leontes in The Winter's Tale) as Franklin Hart, Jr.  Rounding out the cast are Jama Bowen, Ryan Bowie, Matt Casey, Kaitlin Doughty, Emily Eden, Michelle Foletta, Ted Jones, John McDonald, Rob Rodems, Jill Twiss and Matt Varelia.  The musical is directed by Tom Thayer and choreographed by Jessica Davidson.
This production is made possible in part through the generous support of Legends Bank.  Additional funding support is provided by Clarksville Fencing, Couture Crush, Edward's Steakhouse, F&M Bank, Fort Campbell MWR, Ingredients, Kathryn Olita of Batson Nolan PLC Attorneys at Law, The Loft at Mildred and Mable's, Mildred and Mable's, New South Coffee Company, Planters Bank, Regions Bank, Sango Village Florist, Thrive Creative Group, Valerie Hunter-Kelly.
"9 to 5" runs September 14th through October 13th, playing Wednesdays and Thursdays at 7:00pm and Fridays and Saturdays at 8:00pm, with a 2:00pm matinee on Saturday, September 22nd. Tickets are $25.00 (adults) and $15.00 (ages 13 and under) and may be purchased online at www.roxyregionaltheatre.org, by phone at 931.645.7699, or at the theatre during regular box office hours (9:00am to 2:00pm, Monday through Friday).
Friday, September 14th, is our traditional pay-what-you-can preview of "9 to 5". All tickets not pre-sold at the regular ticket price will go on sale at 7:30pm that evening for whatever amount patrons are able to pay.
Saturday, September 15th, is the 30th Anniversary Roxy Gala, celebrating three decades of live entertainment on the corner of Franklin and First. Beginning at 6:00pm with a silent auction of local art, patrons will enjoy a delectable dinner by The Bound'ry at 6:30pm, featuring filet of beef and crab cakes, tuna and raspberry salad, mushroom demi, parmesan roasted potatoes, seasonal vegetables, an array of desserts, and wine by Beachaven Winery. At 7:30pm, patrons will move into the theatre for a live art auction led by Sammy Stuard, followed by a performance of 9 to 5: The Musical.
Saturday, September 22nd, marks the Roxy's inaugural "Wine & Theatre Night," during which patrons can enjoy the best of Beachaven Winery and light comestibles along with the 8:00pm performance.  At this performance (as well as at the Friday, October 5th, performance), the Roxy will host a pre-show talk at 7:30pm entitled "History of Dolly Parton: Life, Music and Career" by Keith Wright, the National Tourism Sales Manager at the Country Music Hall of Fame in Nashville, Tennessee, and tour guide at both the Country Music Hall of Fame and Studio B. Tickets are $40.00.
* Bailey Hanks is appearing courtesy of Actors' Equity Association, the Union of Professional Actors and Stage Managers in the United States.