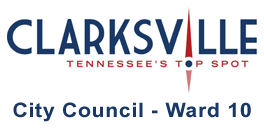 Clarksville, TN – In my article of September 14th, 2012, I mentioned the Madison Street/Hwy76-MLK Improvement Project Concept.  With this article I am letting the cat completely out of the bag.
I have been bouncing this concept around for a couple of years, gathering information and discussing it with our Clarksville Street Department engineers from time to time.
As I had mentioned in that previous article, with finally having success in getting attention (and money) to the Exit 11 and Sango Road issues, I felt it was time to jump forward with another road issue that affects our ward 10 in particular and Clarksville in general.
I briefed my proposal at the recent Street Department committee meeting and received their approval to move forward with a rough concept design.  They will inform Clarksville Mayor Kim McMillan of the project and their approval.
Here are the general concepts with my proposal
Building access roads along a roughly one-third to half-mile stretch on both sides of Madison Street from the Clarksville Gas & Water complex to Hwy76-MLK and from Denny road to almost (but not connecting at this concept time) to the 41-A bypass.
These roads would have connectivity to the businesses on each respective side of Madison Street.
The access roads would run behind the businesses in the affected concept area.
There are a number of details that would have to be addressed since this project would involve the businesses in the area, the city and potentially the state. There are several routes the access roads could use. Their routing could directly affect more or fewer businesses depending on scenario suggested. The access roads could have two or three entrance/exit points depending on how they are designed and are laid out.
I do want to caution residents and businesses in the proposed area that nothing is a done deal so I don't want anyone to get too excited or upset until a general plan can be developed for all to see. So any rumors that this will happen or that will not happen are just that….rumors with no validity or fact. If you hear rumors, contact me for what is actually going on.
As of now, it is my plan (with the Street engineers help) to have a concept layout by November. Then I (and potentially other city engineers/departments) would meet with the affected businesses and local citizens to review the concept, receive input and revise and press ahead as the conditions dictate. If the concept was favorably received by those affected, I would hope/plan to try to work funding in the next city budget.  Again, this is a concept effort and nothing is written in stone either for or against this project.
I believe there are many positives to this project based on input/complaints from citizens, safety issues and potential improved customer access to the businesses in the area.
Here are some of them listed
If readers will recall, the intersection of Madison and Hwy76-MLK has been one of the worst for accidents in the whole city. That is the reason that red-light cameras were installed (the plan is to reinstall then once all road work is completed). I have noted/observed, and my family a victim of, many other vehicle accidents or near misses in the section of Madison from Hwy76-MLK to Richview drive.  Speed, not paying attention and unexpected driver actions (no turn signals) to turn into a business are all factors in causing accidents in this area.  Taking some of these cars out of the flow that slow down to turn into businesses, or pull out trying to merge with moving traffic or those stopped to try and cross multiple lanes would improve safety.
Related to item one, there are multiple business access points in this area with little distance between them.  So drivers have to be very vigilant to all the in's and out's of cars going to these businesses. If that business traffic could be routed to an access road, it would increase safety and encourage more visitation of business that are on the opposite side of the road being traveled.

Drivers that want to cross multiple lanes, from a business, to merge with traffic going in the opposite direction now have more lanes to cross near the intersection of Madison and Hwy76-MLK. This increases the chances for t-bone or frontal crashes. It is also increasing the chances that drivers get confused and actually enter a turn lane for oncoming traffic thinking they can use it as turn lane from their side of the road. I observed a near-miss last week with this very action taking place.
Particularly in the area of the Ruby Tuesday complex and the Captain D's, drivers wanting to visit these businesses, but not in the flow of traffic adjacent to the businesses, will stop and wait to turn across multiple lanes. This is causing clogged traffic and near-miss accidents. I have observed cars wanting to enter Captain D's from the Rudy Tuesday side of Madison Street. They will stop and wait in order to cross two turn lanes taking traffic toward the interstate, two lanes taking traffic out of town and an additional lane that forms to take traffic toward the bypass/Clarksville. These waiting cars will clog traffic heading toward town on Madison Street, affect traffic turning onto Madison from the bypass and increases potential accidents as drivers in these turn and through-put lanes might stop to allow a car to try and cross a lane or two at a time.
I have had citizens say traffic and access is getting so bad that unless they are same side of Madison Street as the business they are thinking about going to, they will just skip it and go elsewhere.
I will keep you posted as this concept project evolves. Any thoughts or concerns from area residents and business to me on this project will be greatly appreciated.
---
Editor's Note: This article contains the view points of Councilman Bill Summers and may not represent the views of the rest of the City Council, the City of Clarksville or ClarksvilleOnline.