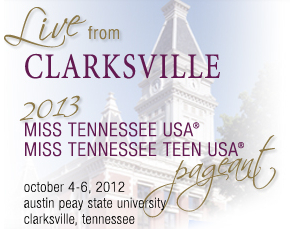 Clarksville, TN – This weekend  Clarksville, Tennessee once again plays  host to the Miss Tennessee USA and Miss Teen Tennessee USA pageants. Tonight kicks off the preliminary competition with the Miss Tennessee USA pageant beginning at 6:30pm and the Miss Teen Tennessee USA pageant beginning at 8:30pm the music and mass communication building at Austin Peay State University.
The finals rounds of the pageants will be held on Saturday with Miss Tennessee Teen USA starting off at 3:30 PM, followed by the Miss Tennessee USA finals at 8:00pm.
James Chevez, the President & CEO of the Economic Development Council welcomes the pageant to Clarksville every year, not only does it give Clarksville, Montgomery County national exposure, but the contestants and their families also provide an economic boost to the community.
"We had a relationship with the Miss Tennessee pageant for quite some time,"  said Chavez. "Kim Greenwood has been awesome to work with. What Clarksville doesn't have him facilities such as a Conference Center, we makes up for by providing first-rate services. Theresa Harrington, Doug Barber and their team do a tremendous amount of work with Mrs. Greenwood throughout the course of the year to be ready for the pageants. We feel that this is one of the reasons why she comes back to Clarksville every year."
Three young ladies from Clarksville are participating in the pageants. Caitlin Campbell, from the Miss River Teen Pageant; Sarah Gross, as Miss Montgomery County; and Jordan Davis, as Miss Clarksville.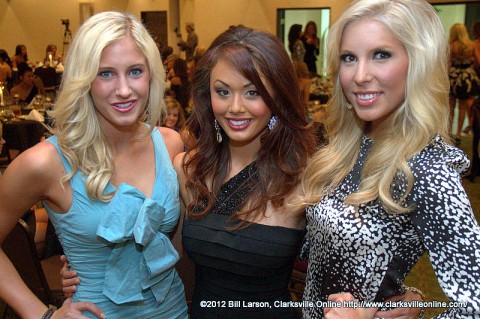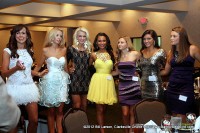 "I think participating in the Miss Tennessee USA pageant has been just a wonderful life experience! I am honored to have been given the title of Miss Clarksville, and being allowed to represent the city where I grew up as a very young girl. To be able to represent it, and the people around me is just an awesome experience," Davis said. Talking about what was ahead of the pageant contestants, She said, "On Thursday we got to go out on the stage and practice our routines with Kent who is phenomenal!" But she is really looking forward to Friday, "On Friday we have our bathing suit preview; and then our interviews, which is my favorite part!"
Sarah Gross was happy that her friends and family would be able to be on hand to cheer her on. "Participating in the Miss Tennessee USA pageant is such an honor," she said. "I am from Clarksville, but I am representing Montgomery County. So it a great feeling being allowed to represent where I was raised, and to see my friends and family cheering me on!"
For Caitlin Campbell, who was participating in the Miss Teen Tennessee USA loves having the pageant right here in Clarksville, "Participating in the Miss Teen Tennessee USA pageant has been such an honor, because of how much I really love Clarksville. I've gotten to know This town really well through my high school years. Being able to have The pageant right here in Clarksville with my mom living just five minutes away has been really great!"
The Miss Tennessee USA pageant serves as a qualifying pageant the Miss USA pageant, the winner becomes Miss Tennessee and has taken a step towards ultimately becoming Miss USA.
If you would like to put attendant the pageant tickets are $35 for the preliminary events and $40 for the finals and can be purchased at the music and mass communication building if they are still available.
Photo Gallery
Pageant contestants at a banquet held in their honor Thursday evening