Clarksville, TN – Clarksville Police are, once again, on the hunt for Ray Anthony Farmer (W/M, DOB: 8/16/56). He is a career criminal that has plagued the city of Clarksville and has physically fought officers for many years.
He was released from the Tennessee Department of Corrections to a halfway house in July 2012 after serving approximately 5 ½ years for Burglary. At some point, Ray Farmer, left the halfway house prior to completion of his time and ended up back in Clarksville.
He was spotted in the area on September 29th. It didn't take long before Farmer involved in criminal activity in Clarksville. On October 9th, Farmer fled from a Montgomery County Sheriff's Deputy in a stolen pickup, crashed, and then eluded Police after bailing out in a wooded area.
After the vehicle crashed and Detective Ronald Parrish opened an investigation, it was discovered the vehicle was stolen from the lot of a Fort Campbell business and a commercial business had been broken into and items found inside of the vehicle were also linked to vehicle burglary which happened on October 8th, 2012.
In a joint effort, the Clarksville Police Department and Montgomery County Sheriff's Office simultaneously went to four different residential locations in an effort to locate and apprehend Farmer, but he was nowhere to be found.
Anyone with information is asked to contact the Clarksville Police Department, 931.645.8477 or if spotted call 911.
Ray Farmer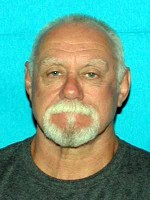 Name: Ray Anthony Farmer (W/M)
DOB: 8/16/56
Wanted: For Six Local Warrants and One Davidson County Warrant
The local warrants: Theft of a Motor Vehicle, Burglary of a Business, Vehicle Burglary, Evading, Speeding, Drivers License Required
Davidson County Warrant: Violation of Probation