APSU Sports: Austin Peay Men's Basketball

Clarksville, TN – Edwardsville, IL, natives Will Triggs and Anthony Campbell each scored 17 points while Chris Freeman came off the bench to add 16 as Austin Peay State University defeated Central Missouri, 75-66, Saturday night, in exhibition basketball action played at Dave Aaron Arena.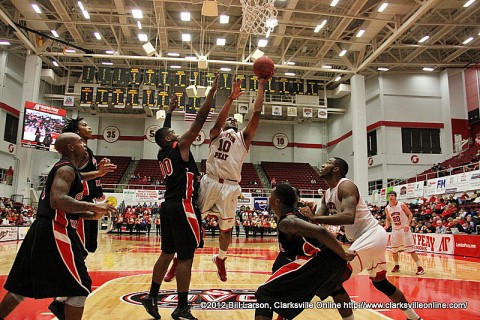 It was the fifth straight year APSU and Central Missouri, a Division II powerhouse, have played a season-opening exhibition contest. Central Missouri assistant coach Brad Loos is the son of APSU head Dave Loos.
Triggs scored 11 of his points in the second half while Campbell added 10 as the Governors pulled away in the final six minutes. With APSU trailing 57-56 with 6:44 left in the game, reserve point guard Herdie Lawrence hit Freeman, who was 6-of-8 from the floor, for a layup and a 58-57 advantage. The Govs would never trail again.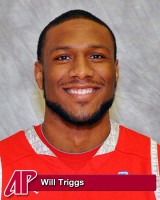 Triggs then scored on a layup and was fouled. He connected on the free throw. Then Lawrence did the same and the Govs led by seven, 64-57 with 4:07 remaining.
But it was a play by freshman Chris Horton that sealed the contest. The long-armed Decatur, GA., native blocked Widgett Washington's perimeter shot. He snared the rebound along the sideline and then raced the length of the floor. He finished with a slam and the Govs were up 66-57 with 3:45 left.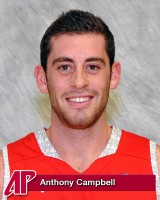 From there it was a case of the Govs taking care of the basketball-something they didn't do early in the game-and connect on free throws. The Govs made seven-of-eight free throws in the final four minutes, with Campbell connecting on five of them. APSU connected on 20 of 24 free throws (83.3 percent), going 15 of 16 in the final half.
On the night, APSU connected on 25 of 46 shots (54.3 percent) while limiting Central Missouri to just 40.3 percent (25 of 62). That helped offset APSU's 20 turnovers and the Mules' 34-30 rebounding edge.
Five Mules scored in double figures, led by Charles Hammork and Matt Webb each had 15 points, with the latter also snaring 10 rebounds. Dominique Long added 14 points.
The Governors officially will open the 2012-13 season this Friday when they play host to Samford in 7:00pm.
Photo Gallery