APSU Sports: Austin Peay Men's Basketball

Chattanooga, TN – Austin Peay State University's defensive struggles continued to make December a forgettable month.
Utah Valley shot 61 percent from the floor and scored on eight of its last nine possessions to pull away late to defeat the Governors, 84-77, in first-round play of the Dr. Pepper Classic, being played at McKenzie Arena.
The loss was the Governors' fifth straight, a streak that has seen the opponent shoot 50 percent or better in four of those games. The Govs will play again, 3:30pm, Saturday, against the loser of the High Point-Chattanooga contest.
Utah Valley, meanwhile, improved to 7-8. This is the second straight season the Wolverines have reached the Dr. Pepper Classic final.
It was Ben Aird early and Holt Hunsaker late as Utah Valley and the Governors endured a see-saw battle for much of the game's first 30 minutes. In fact, APSU built a five-point lead after consecutive jumpers from Travis Betran and Anthony Campbell. But Baird answered with two free throws and after a Governors miss, Hunsaker nailed his third of four second-half three pointers to tie the contest at 64.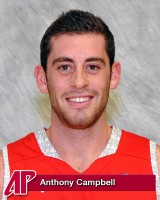 Jason Johnson then hit a three to give Utah Valley the lead before Anthony Campbell tied it with a three of his own at 67-67 with 7:23 remaining.
But Johnson then hit another jumper on a pass from Hunsaker before Betran was fouled shooting a three with 4:38 left. However, the junior was able to make only one of three free throws and APSU would never lead again.
Hunsaker made his fourth second-period three to make it a four-point game. Two Betran free throws would cut it to two but that would be as close as the Governors could get.
Hunsaker finished with 21 points, five coming on threes. He also made all four free throw attempts in the final minute.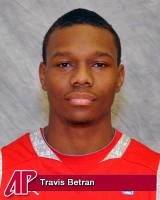 Aird, meanwhile, was 12 of 16 from the floor in scoring a team-high 26 points. That performance allowed Utah Valley to hold a 42-18 advantage in points in the paint. In fact, Wolverines guards carved up APSU inside to the tune of 27 assists on 33 baskets in 54 attempts.
APSU post players, in fact, went a combined 5-of-13 as Will Triggs was the only post player to reach double figures with 10 points, six of them coming at the free-throw line.
The inside woes on both ends of the floor overshadowed a strong perimeter performance by Betran and Campbell. Bouncing back from a two-point game at Illinois State, Betran scored a game-high 27 points, going 6-of-10 from three-point range. Campbell added 22 points, including a trio of three pointers.
Box Score
Utah Valley vs Austin Peay
12/28/12 4:40pm at The McKenzie Arena (Chattanooga, TN)
Utah Valley 84
Total
3-point
Rebounds
##
Player
p
fgm-fga
fgm-fga
ftm-fta
off-def
tot
pf
tp
a
to
blk
stl
min

20

Hubbard, Alfonzo

f

5-10

0-2

0-0

1-7

8

3

10

5

3

0

0

33

22

Thompson, Nick

f

6-9

1-2

0-0

1-9

10

2

13

12

2

0

1

39

34

Aird, Ben

c

12-16

0-1

2-2

2-6

8

3

26

1

1

0

0

39

11

Johnson, Jason

g

3-7

1-2

1-2

0-1

1

2

8

3

1

0

1

35

12

Hunsaker, Holton

g

5-10

5-9

6-6

0-3

3

2

21

5

3

0

1

40

03

Enos, Keawe

–

0-0

0-0

0-0

0-0

0

0

0

0

0

0

0

1

32

Brown, Taylor

–

2-2

2-2

0-0

0-0

0

1

6

1

0

0

0

12

45

Sinclair, Will

–

0-0

0-0

0-0

0-1

1

1

0

0

0

0

0

1

TM

TEAM

–

–

–

–

0-1

1

–

–

–

–

–

–

–

Totals…………..

–

33-54

9-18

9-10

4-28

32

14

84

27

10

0

3

200

61.1%

50.0%

90.0%

Team summary:
FG
3FG
FT
1st Half:

17-28

3-6

1-2

60.7%

50.0%

50.0%

2nd Half:

16-26

6-12

8-8

61.5%

50.0%

100 %
Austin Peay 77
Total
3-point
Rebounds
##
Player
p
fgm-fga
fgm-fga
ftm-fta
off-def
tot
pf
tp
a
to
blk
stl
min

10

TRIGGS, Will

f

2-4

0-0

6-8

2-0

2

0

10

2

0

0

1

32

25

CAMPBELL, Anthony

f

8-16

3-9

3-4

1-4

5

2

22

3

2

0

0

28

05

HORTON, Chris

c

1-4

0-0

0-0

1-1

2

1

2

3

1

0

0

12

04

BETRAN, Travis

g

9-16

6-10

3-5

0-1

1

1

27

4

1

0

1

37

12

PURVIS, Jeremy

g

3-7

3-6

0-0

0-1

1

1

9

3

1

1

1

33

15

FREEMAN, Chris

–

2-5

0-0

0-0

0-7

7

2

4

0

1

0

2

25

20

ARENTSEN, Cory

–

0-0

0-0

0-0

0-3

3

0

0

1

0

0

1

11

21

HERRING, Preston

–

0-0

0-0

1-2

0-0

0

0

1

0

0

0

1

4

22

LAWRENCE, Herdie

–

0-0

0-0

0-0

0-0

0

0

0

0

0

0

0

1

23

LYNCH, AJ

–

0-1

0-0

0-0

0-0

0

2

0

1

1

0

0

10

33

HASSE, Matt

–

1-1

0-0

0-0

0-0

0

2

2

0

0

0

0

7

TM

TEAM

–

–

–

–

0-1

1

–

–

–

–

–

–

–

Totals…………..

–

26-54

12-25

13-19

4-18

22

11

77

17

7

1

7

200

48.1%

48.0%

68.4%

Team summary:
FG
3FG
FT
1st Half:

13-27

8-14

6-8

48.1%

57.1%

75.0%

2nd Half:

13-27

4-11

7-11

48.1%

36.4%

63.6%
| | | | | |
| --- | --- | --- | --- | --- |
| Score by Periods | 1st | 2nd | Total | |
| Utah Valley | 38 | 46 | 84 | Record: (7-8) |
| Austin Peay | 40 | 37 | 77 | Record: (4-9) |
Officials: Todd Austin, T.Jerome Hall, Charles Balunek
Technical fouls: Utah Valley-None. Austin Peay-None.(Game 1) of the 2012 Dr Pepper Classic