Clarksville, TN – On Monday, January 21st, around 8:20pm, a 2006 Mitsubishi Galant driven by 36 old woman was traveling east on Purple Heart Highway when a 2000 Lincoln LS, driven by a 19 year old male traveling north from Evans Road, rolled through a STOP sign into the path of the oncoming Galant.
The Galant crashed into the Lincoln behind the driver's side rear tire area.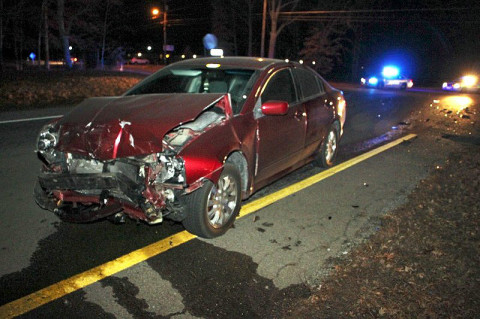 The Lincoln had two passengers, 28 and 18 years of age, in the back seat of the vehicle. Both were unrestrained by seat belts. The 28 year old back seat passenger, located behind the driver, sustained injuries to the head and chest and was taken by Lifeflight to Vanderbilt University Medical Center in critical condition. The driver and other passenger were uninjured.
The 36 year old driver of the Galant was uninjured.
The investigation is ongoing and charge (s) are pending. The lead investigator is Officer Bill VanBeber, 931.648.0656, ext. 5486.
Photo Gallery