APSU Sports: Austin Peay Men's Basketball

Clarksville, TN – Belmont used a 14-0 late first-half run to break open a tight game and carried that momentum into the second half as Austin Peay State University fell, 78-65, Saturday night in Ohio Valley Conference basketball action played in Dave Aaron Arena.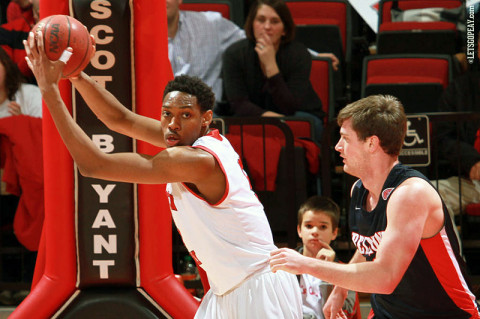 In losing their eighth straight game, the Governors fall to 5-20 overall and 1-10 in the OVC. Coming off its first loss, Belmont improved to 20-5 overall and 11-1 in the OVC.
Leading 22-19 with 4:26 remaining the half, Belmont watched J.J. Mann scored the next 10 of the game's next 12 points-the other two coming from teammate Bandon Baker-before the Bruins completed the 14-0 run with two Kerron Johnson free throws.  Meanwhile, the Governors aided the run by committing four turnovers during the stretch.
The Govs' Travis Betran scored on a layup with 14 seconds left in the half to slow the momentum as Belmont took a 36-21 halftime advantage.
Belmont ended the first half with six three pointers (16 attempts) and eight more in the final half prevented the Govs from mounting a comeback. In fact, Mann and Ian Clark, one of the strong favorites for OVC Player of the Year, combined for 11 of the Bruins' 14 three pointers. Mann finished with a game-high 26 points while Clark had 25 as the Bruins only double-figure scorers.
APSU also had just two players in double figures as Betran led the way with 22 points, nailing 7-of-11 shots.  Chris Freeman came off the bench to added 10.
APSU finished the night 23 of 50 (46 percent) from the floor, just barely behind Belmont's (46.7 percent/28 of 60), but the Govs could manage just five three pointers compared to Belmont's 14 (of 34), 42 percent shooting.
Next Game
Austin Peay Men's Basketball travels to Charleston, IL to take on Eastern Illinois Thursday, February 14th. Tip off is at 7:00pm.
Box Score
Belmont vs Austin Peay
2/9/13 7:35pm at Clarksville, Tenn. (Dunn Center)
Belmont 78
Total
3-point
Rebounds
##
Player
p
fgm-fga
fgm-fga
ftm-fta
off-def
tot
pf
tp
a
to
blk
stl
min

02

JENKINS, Blake

f

4-7

0-0

0-0

4-1

5

5

8

0

2

1

0

13

14

MANN, JJ

f

10-17

6-11

0-0

1-2

3

0

26

2

1

0

3

34

30

NOACK, Trevor

f

2-6

1-4

0-0

0-7

7

2

5

1

1

1

1

34

03

JOHNSON, Kerron

g

2-4

1-1

4-4

1-6

7

3

9

4

2

0

2

29

21

CLARK, Ian

g

8-16

5-11

4-4

0-1

1

2

25

5

3

0

4

36

01

LAIDIG, Jeff

–

0-1

0-1

0-0

1-1

2

2

0

1

1

0

0

5

22

CHAMBERLAIN, Reece

–

0-3

0-2

0-0

0-1

1

1

0

3

1

0

1

21

23

BRADSHAW, Craig

–

1-3

1-3

0-0

0-1

1

0

3

1

0

0

0

7

24

BARNES, Adam

–

0-1

0-1

0-0

0-0

0

0

0

0

0

0

0

3

45

BAKER, Brandon

–

1-2

0-0

0-0

0-4

4

3

2

0

1

0

1

18

TM

TEAM

–

–

–

–

2-0

2

–

–

–

–

–

–

–

Totals…………..

–

28-60

14-34

8-8

9-24

33

18

78

17

12

2

12

200

46.7%

41.2%

100 %

Team summary:
FG
3FG
FT
1st Half:

11-26

6-16

8-8

42.3%

37.5%

100 %

2nd Half:

17-34

8-18

0-0

50.0%

44.4%

0.0%
Austin Peay 65
Total
3-point
Rebounds
##
Player
p
fgm-fga
fgm-fga
ftm-fta
off-def
tot
pf
tp
a
to
blk
stl
min

10

TRIGGS, Will

f

3-6

0-0

3-5

1-2

3

3

9

4

3

0

0

33

25

CAMPBELL, Anthony

f

3-7

0-2

1-1

0-1

1

0

7

1

0

0

1

24

05

HORTON, Chris

c

3-6

0-0

1-2

2-8

10

1

7

0

4

4

0

27

01

CLYBURN, Jerome

g

0-1

0-0

2-2

0-0

0

1

2

2

2

1

2

22

04

BETRAN, Travis

g

7-11

4-6

4-4

0-4

4

0

22

1

0

0

2

30

11

GREER, Thomas

–

0-1

0-0

0-0

0-0

0

0

0

1

2

0

0

7

12

PURVIS, Jeremy

–

0-0

0-0

0-0

0-0

0

0

0

0

0

0

0

0+

15

FREEMAN, Chris

–

4-9

0-0

2-5

2-2

4

2

10

0

1

0

1

16

20

ARENTSEN, Cory

–

0-1

0-1

0-0

1-2

3

0

0

2

1

0

0

9

21

HERRING, Preston

–

1-1

0-0

0-0

1-0

1

0

2

0

0

0

0

4

22

LAWRENCE, Herdie

–

1-6

1-5

0-0

0-1

1

2

3

1

2

0

0

17

23

LYNCH, AJ

–

1-1

0-0

1-2

1-0

1

0

3

1

1

0

0

11

TM

TEAM

–

–

–

–

0-3

3

–

–

–

–

–

–

–

Totals…………..

–

23-50

5-14

14-21

8-23

31

9

65

13

16

5

6

200

46.0%

35.7%

66.7%

Team summary:
FG
3FG
FT
1st Half:

10-25

1-6

0-2

40.0%

16.7%

0.0%

2nd Half:

13-25

4-8

14-19

52.0%

50.0%

73.7%
| | | | | |
| --- | --- | --- | --- | --- |
| Score by Periods | 1st | 2nd | Total | |
| Belmont | 36 | 42 | 78 | Record: (20-5 (11-1 OVC)) |
| Austin Peay | 21 | 44 | 65 | Record: (5-20 (1-10 OVC)) |
Officials: Brett Miles(R), Todd Miller, Bart Lenox
Technical fouls: Belmont-None. Austin Peay-None.
Attendance: 4097
Player of the Game: Travis Betran