Event gave Clarksvillian's a sneak peak of what is available for  Valentine's Day

Clarksville, TN – Whiskey Fudge, Brownies covered in Chocolate Chips, Chocolate Cherry Coke Float Cake, Banana Cake drizzled with Chocolate Ganache, Chocolate Donuts, and Double Dutch Chocolate Marshmallows were just some of the unique treats enjoyed by the sell out crowd that attended A Chocolate Affair at the Wilma Rudolph Event Center on Saturday night.
Chocolate lovers were able to enjoy a large selection of sweet and savory treats while listening to music provided by the Cumberland Winds Woodwind Quintent, a Solo Harpist, and a Jazz Combo.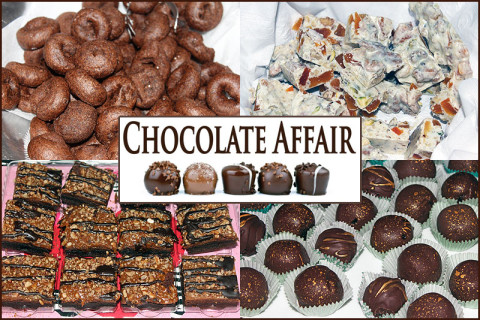 The event was presented by the City of Clarksville Department of Parks and Recreation and Planters Bank, and featured over 25 local and area businesses showing off their delectable goodies. The event gave businesses a chance to put their wares in front of the people and let them see some of the many confectionery choices available to them.
"It's been great! We had a really good time, and hope to come back next year," said Steve Chlupsa, with The Cake Artist out of Cadiz, KY.
For businesses just starting out, it was a chance to meet potential customers who can help build their business.
Sydney Stanton with Donut Dolls offered her praise, "I think the Chocolate Affair was an amazing event. We have gotten a lot of service, and met a lot of people who might not have known about us. That is a big help since we do not have a store front, but do actively deliver. We have a lot of people in offices that I think are going to use us now. I think it's been a very productive evening." She continued,  "We will definitely be back next year."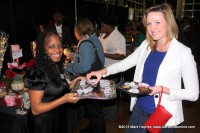 That sentiment was echoed by Clifford Greer with Natural Choices Botania, "I have really enjoyed A Chocolate Affair. This was a great event. We had a lot of people come by and sample our Tea Blends. It seemed at times like that the line just went on and on and on. I am really looking forward to coming back next year."
Niki Frank a special events coordinator for the City of Clarksville Parks and Recreation Department, and Michael Turner, manager of the Wilma Rudolph Event Center, coordinated the event.
"I think tonight was very successful. We have heard alot of great compliments and comments. A lot of people have suggested a second annual Chocolate Affair so we are going to be doing a follow up and survey with our vendors and attendees to make sure we make next year even better than this year,"  stated Niki Frank. "I think it was a great night."
A Chocolate Affair Vendor List
Ann Marie's Artisan Bakery
www.annmariesgoodies.com
APSU Culinary Program
Ardyss
www.ardysslife.com/leslieg
The Cake Artist
www.thecakeartistonline.com
Chartwells Catering
Chick-Fil-A
www.chick-fil-a.com
Covered with Icing
www.coveredwithicing.com
Dove Chocolate Discoveries
www.chocolatiersharon.com
Donut Dolls
www.doughnutdolls.com
A Family Affair Catering
www.afamilyaffaircatering.net
Fort Campbell Culinary Program
George the Cake Guy
www.georgethecakeguy.com
Goo Goo Clusters
www.googoo.com
Kerfluffles Marshmallows
www.kerfluffiesmarshmallows.com
Lindt Chocolate RSVP
www.mylindtchocolatersvp.com/hilaryhowser
Louise's Bakery and Kitchen
Marcus Scott Bartending
Mr. Bulky
www.mrbulkytreats.com
Natural Choices Botanica
www.naturalchoicebotanica.com
Panera
www.panerabread.com
Party Station Rentals
www.partystationrentals.com
Publix
www.publix.com
Ridiculous Chocolate
www.ridiculouschocolate.com
Sam's Club
www.samsclub.com
A Spoonful of Sugar Cupcakery and Desserts
www.aspoonfulofsugarcupcakery.com
Velate
www.velata.com
Please support these local vendors in the future.
Photo Gallery