APSU Sports: Austin Peay Women's Golf

Hattiesburg, MS -Austin Peay State University women's golf team will face a challenging field when it plays in its second spring golf tournament, Monday and Tuesday, at the 19th annual Lady Eagle Invitational at the Hattiesburg Country Club.
In addition to the Lady Govs, the tourney field includes host, Southern Miss, Belmont, Jackson State, Louisiana-Monroe, Marshall, Memphis, New Orleans, South Alabama, Stephen F. Austin, Tennessee Tech, Troy, UAB, UT-Pan American, West Florida and William Carey. The par-72, 6111-yard layout will see 18 holes played on Monday and Tuesday.
But like in the Lady Govs previous tournament, weather figures to be a challenge for the 16-team tourney field as wind and showers are expected Monday. The Racer Invitational had to be halted at Murray last week as winds, rain and even ice—because of mid-30s temperature—pelted the course and golfers. APSU was able to take third place in the opening event, despite a somewhat disappointing 324 score.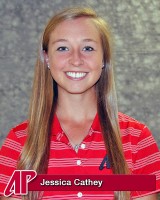 "There is a great field in Hattiesburg and we are looking forward to the competition," APSU coach Sara Robson said. "The girls were playing well in round two that was cancelled at Murray so they are ready to go out and redeem themselves after a disappointing round one."
The Lady Govs will be led by freshman Jessica Cathey, whose opening-round 78 at Murray was one of just four sub-80 rounds in the tournament.
In addition, senior Tabitha Beard, juniors Tala Mumford and Rachel Deaton along with sophomore Meghan Mueller will round out APSU's team. Seniors Lauren Bond and Holly Batey will participate as individuals.
"It will be very important to stay focused, competitive, trust our abilities and believe in our games and each other," Robson said. "We were able to shake off the cobwebs at our event last week, since it had been awhile since we competed. We are ready to go and put some good numbers on the scoreboard."