Clarksville, TN – Zavion Williams, a 5-10 point guard who sat out this past basketball season at Austin Peay State University after transferring from Lipscomb, has been awarded a scholarship by the Governors.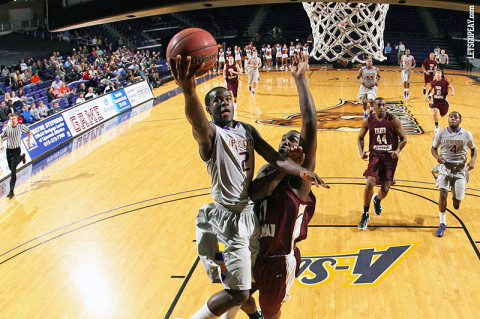 After averaging 9.1 points and 2.6 assists in 26 games, including 14 starts, for Lipscomb as a freshman in 2010-11, the local product (West Creek High) elected to leave the Bisons. He joined APSU in August without scholarship aid and practiced with the Govs throughout the season. He impressed the coaches with a myriad of basketball skills.
"Zavion has the ability to make others players better around him," APSU coach Dave Loos said. "I would describe him as a scoring point guard. He has good handles, can get into your defense where you have to help on him.
"That is where I think he will be so good for others on our team because when he turns that corner he can finish. There are some who play that position that you can just stay locked up defensively because they cannot finish. You have to help on Zavion and when you do, it should create some shots for guys like (Corey) Arentsen and (Travis) Betran. He is excellent at find the opening man."
At Lipscomb, Williams scored in double figures on 11 different occasions. In fact, he tallied 20 or more points three times, including a 28-point, seven-assist effort against SIU Edwardsville in the 2011 Cancun Challenge. In fact, he averaged 15.3 points and 4.8 assists on his way to all-tournament honors.
As a prep senior at West Creek, Williams averaged 25.6 points, 5.7 rebounds, 4.3 steals and 2.7 assists as a senior, leading West Creek to a 28-7 record and the school's first state tournament appearance in school history. He scored 37 points against Siegel High in the state tournament quarterfinals after tallying 35 points in the region championship game against Clarksville High.
He was named the District 10-AAA Player of the Year and to the Tennessee Sports Writer's Association All-State team his senior year as well as being chosen to the first-team Tennessean's All-Midstate list.
Williams is expected to challenge to be a starter at a position in 2013-14 that had its share of injuries and missteps in 2012-13.
"Zavion seems to be happy here," Loos said. "He has had a year of learning our system and should be ready to go come fall.
"We found out he is excellent in finding the open man in transition—he is such a good passer and on the defensive end he literally will pick your pocket."
Williams will welcome fellow Clarksvillian and former Lipscomb teammate Damarius Smith, who signed with the Governors earlier this week.