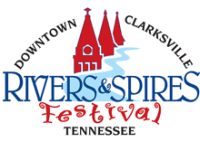 Clarksville, TN – Montgomery County Animal Control and Adoption Services setup their new Mobile Adoption Trailer at this years Rivers and Spires Festival Friday, April 19th and Saturday, April 20th. It was sitting near the Kid's Zone at the corner of Hiter Street and Commerce Street.
"It has been very well received," stated Montgomery County Animal Control director Tim Clifton. "I think this is probably one of the greatest things we've done at animal control."
The Adoption Trailer has 22 kennels, heating and air conditioning, running water and see through sides to allow for easy viewing of the animals.
"I think this is just a wonderful thing," stated Ashley Hamilton of Cumberland Furnace, TN. "It's just a great way to help find these animals good homes."
On Friday, Animal Control adopted out 5 dogs and 2 cats. They had an even bigger day Saturday, finding homes for 17 dogs and 4 cats.
"All of our kennels at Animal Control are basically empty because we've had to make three trips up here today," said Clifton. "That's a good problem to have."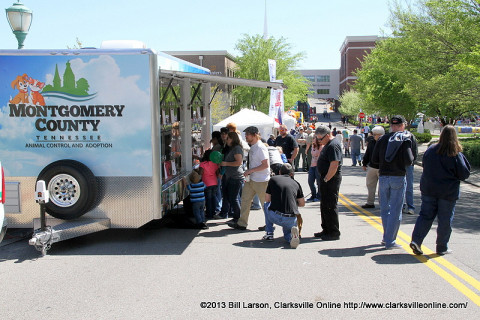 If you did not get a chance to adopt a pet at Rivers and Spires, then your in luck. The Montgomery County Animal Control and Adoption Services is open Monday, Tuesday, Friday and Saturday from 10:00am to 3:00pm, Thursday from 10:00am to 7:00pm (Adoption Night). Animal Control is closed Wednesday and Sunday.
Animal Control and Adoption Services is located at 616 North Spring Street, Clarksville, TN. You can contact them at 931.648.5750.
For more information, visit their webpage at www.mcgtn.org/animal-control
Photo Gallery