Starkville, MS – A magical 2013 season came to an end for Austin Peay State University men's tennis team, Friday, when the Govs fell, 4-0, to tenth-seeded Mississippi State in the first round of the NCAA Men's Tennis Tournament.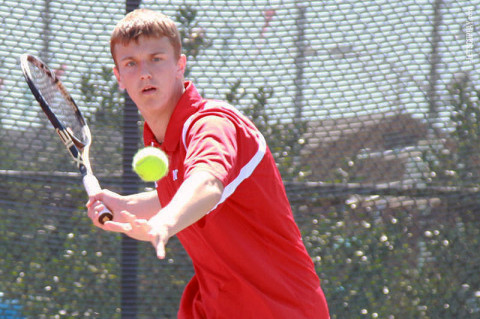 The Govs finished their first season under head coach Ross Brown with a 17-4 overall record and first NCAA Tournament appearance after winning the program's first OVC title since 1974. Mississippi State moves to 17-9 and advances to play Harvard in Saturday's second round.
Despite jumping out to early leads in two of three doubles matches, the Govs would eventually lose the doubles point. Senior Sean Bailey and junior Jasmin Ademovic got out to an early 2-1 lead but dropped the No. 1 match to 13th-ranked Malte Stropp and Jordan Angus, 8-6. Moments later, senior John Storie and sophomore Aleksas Tverijonas dropped the No. 3 match, 8-4, to lose the doubles point for just the fifth time in 2013.
Ademovic became the first Gov to bow out in singles play; Stropp defeated the Bosnian 6-2, 6-2, to capture the No. 2 singles victory. Sophomore Iago Seffrin dropped the No. 6 match in straight sets as well, falling 6-4, 6-4 to Pedro Dumont.
Sophomore Dimitar Ristovski dropped a 6-4, 6-4 match at No. 3 to James Chaudry, to close out the match and the Govs season. Ristovski finished the season with a team-high 21 victories.
Tverijonas put on a solid display at No. 4; before his match was suspended following Ristovski's loss, he had rallied back from a 5-1 deficit to win the first set 7-6 against Angus and was leading 3-1 in the second set.
Neither Bailey nor Storie factored into the singles decision in their final collegiate matches; both had lost their first set before play ended.
Box Score
#10 Mississippi State 4, Austin Peay 0
May 10th, 2013 at Starkville, MS.
Singles competition
1. BAILEY, Sean (APSU) vs. #6 BOGAERTS, Romain (MSU) 2-6, 3-3, unfinished
2. #57 STROPP, Malte (MSU) def. ADEMOVIC, Jasmin (APSU) 6-2, 6-2
3. CHAUDRY, James (MSU) def. RISTOVSKI, Dimitar (APSU) 6-4, 6-4
4. TVERIJONAS, Aleksas (APSU) vs. ANGUS, Jordan (MSU) 7-6, 3-1, unfinished
5. STORIE, John (APSU) vs. WHITE, Zach (MSU) 3-6, 5-6, unfinished
6. DUMONT, Pedro (MSU) def. SEFFRIN, Iago (APSU) 6-4, 6-4
Doubles competition
1. #13 STROPP, Malte/ANGUS, Jordan (MSU) def. BAILEY, Sean/ADEMOVIC, Jasmin (APSU) 8-6
2. RISTOVSKI, Dimitar/SEFFRIN, Iago (APSU) vs. WILKINSON, Ethan/DUMONT, Pedro (MSU) 2-7, unfinished
3. BOGAERTS, Romain/WHITE, Zach (MSU) def. TVERIJONAS, Aleksas/STORIE, John (APSU) 8-4
Match Notes
Mississippi State 17-9; National ranking #10
Austin Peay 17-4