R.J. Seidel Earns First Triple-A Win With Solid Outing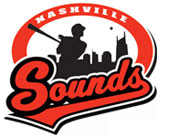 Nashville, TN – Scooter Gennett belted his first home run of the year and Sean Halton smacked a grand slam to power the Nashville Sounds to a 6-1 win over the division-rival Iowa Cubs on Thursday evening at Greer Stadium.
Chris Narveson made the first start of his rehabilitation assignment with Nashville as he recovers from a sprained middle finger on his pitching hand. The southpaw worked two scoreless frames, allowing a game-opening single before retiring his next six batters faced. He threw 12 of his 22 pitches for strikes.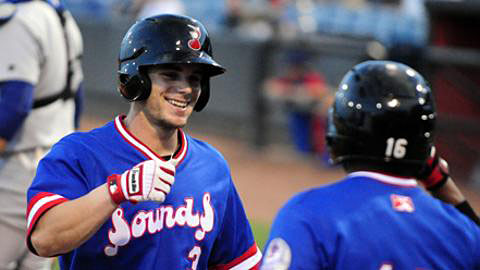 The Sounds grabbed  a 1-0 lead in the bottom of the second inning. After Josh Prince drew a leadoff walk from Iowa starter Brooks Raley, he raced all the way home from first on Stephen Parker's RBI double to right.
Gennett (3-for-5) doubled the home team's advantage to 2-0 in the third when he belted his first home run of the season, a leadoff solo shot to right off Raley.
R.J. Seidel (1-2) followed Narveson to the hill for the Sounds and turned in a stellar outing to earn his first career Triple-A victory. The right-hander allowed one run on six hits over 5 2/3 frames while striking out five.
Raley (4-4) took a quality-start loss for the I-Cubs. The southpaw allowed two runs on six hits over six innings of work.
Halton gave the Sounds some breathing room in the seventh when he crushed a grand slam to left off Cubs reliever Marcus Hatley. The bases-loaded jack was the outfielder's fifth roundtripper of the year and plated Gennett (single), Hainley Statia (walk), and Khris Davis (walk) to up the lead to 6-0.
The I-Cubs got onto the board in the top of the eighth when Brian Bogusevic's two-out single plated Darnell McDonald to make it a 6-1 game.
The Sounds will look to secure their first winning series of the season when the teams wrap up the four-game series with a 7:05pm finale on Friday evening. Right-hander Johnny Hellweg (3-4, 3.99) will make the start for the Sounds and face Iowa right-hander Yoener Negrin (0-1, 2.73).
Box Score
Nashville Sounds (16-36) 6, Iowa Cubs (24-28) 1
May 30th, 2013
1
2
3
4
5
6
7
8
9
R
H
E
Iowa Cubs
0
0
0
0
0
0
0
1
0
1
8
1
Nashville Sounds
0
1
1
0
0
0
4
0
x
6
9
1
a-Flied out for Takahashi in the 8th.
BATTING
TB
: Sappelt; Nelson; Raley; McDonald; Bogusevic; Stewart, I; Watkins 2.
RBI
: Bogusevic (20).
2-out RBI
: Bogusevic.
Runners left in scoring position, 2 out
: McDonald; Maysonet; Nelson 2; Watkins.
Team RISP
: 1-for-5.
Team LOB
: 9.
BASERUNNING
SB
: Watkins (5, 2nd base off Seidel/De La Rosa, A).
FIELDING
E: Raley (2, throw).
Outfield assists: Sappelt (Statia at home).
DP: (Sappelt-Boscan).
BATTING
2B
: Parker, S (10, Raley).
HR
: Gennett (1, 3rd inning off Raley, 0 on, 0 out), Halton (5, 7th inning off Hatley, 3 on, 1 out).
TB
: Prince; Halton 4; Parker, S 2; Gennett 6; Davis, K 2; Statia.
RBI
: Parker, S (17), Gennett (13), Halton 4 (20).
Runners left in scoring position, 2 out
: Narveson; Prince 2.
Team RISP
: 2-for-9.
Team LOB
: 8.
BASERUNNING
SB
: Davis, K (4, 2nd base off Raley/Boscan), Gennett (8, 2nd base off Hatley/Boscan).
FIELDING
E: Davis, K (3, fielding).
WP: Seidel.
Pitches-strikes: Raley 91-58, Hatley 25-12, Takahashi 5-4, Parker, B 16-12, Narveson 22-12, Seidel 91-59, Sanchez, Je 20-13.
Groundouts-flyouts: Raley 9-2, Hatley 2-0, Takahashi 0-0, Parker, B 0-0, Narveson 2-2, Seidel 6-2, Sanchez, Je 0-1.
Batters faced: Raley 26, Hatley 7, Takahashi 1, Parker, B 4, Narveson 7, Seidel 24, Sanchez, Je 6.
Inherited runners-scored: Takahashi 1-0, Sanchez, Je 2-0.
Ejections: Iowa Cubs center fielder Brett Jackson ejected by 3B umpire D. Reyburn (6th); Iowa Cubs Manager Marty Pevey ejected by 3B umpire D. J. Reyburn (6th); Iowa Cubs catcher J. Boscan ejected by HP umpire Chris Segal (7th)
Umpires: HP: Chris Segal. 1B: Kolin Kline. 2B: Jordan Ferrell. 3B: D.J. Reyburn.
Weather: 86 degrees, partly cloudy.
Wind: 4 mph, L to R.
T: 2:59.
Att: 6,397.