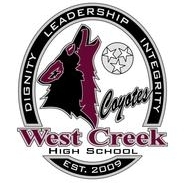 Clarksville, TN – Trailing by one point at halftime, January 7th, the West Creek Lady Coyotes came out and scored the first nine points of the second half and never looked back, as they defeated the Clarksville High Lady Wildcats in a battle for second-place in District 10-AAA, 45-33.
West Creek (7-10, 4-1 District 10-AAA) opened the second half down 18-17, but used full-court pressure to force the Lady Wildcats into several turnovers and easy transition baskets – including two by Ariana Prather just eight second apart – to highlight the 9-0 run.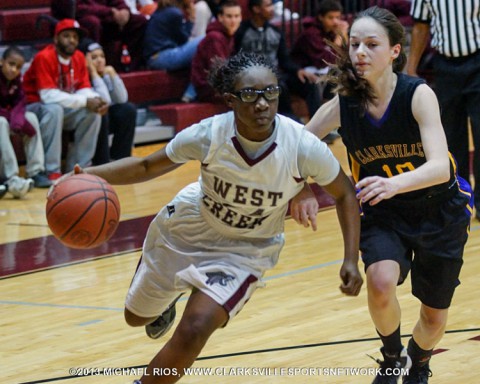 Prather would lead all scorers with 14 points.
Clarksville High (7-8, 3-2 District 10-AAA) ended the run with a basket by TaTayana Outlaw, with 4:21 left, but West Creek followed with the next five points scored to build its biggest lead of the game – 11 points – at 31-20.
The Lady Wildcats would get a free throw from J.K. Cummings and a basket by LaPrasha Fair to cut the margin back to eight points, with a minute left in the period, but a final basket by West Creek's Latoya Winters gave the Lady Coyotes a 33-23 advantage heading into the final quarter of play.
The fourth quarter would see the Lady Coyotes maintain their 10-point cushion for the first four minutes of the period, before slowly building their lead out to as many as 14 points, 45-31, on a basket by Prather with 1:22 left before settling for the 45-33 victory.
In the first half, Clarksville High jumped out to a 4-0 lead on a basket by Haley Bearden and two free throws by Hannah Goins in the first minutes and a half.
West Creek would tie the game with buckets from Prather and Tyisha Worthy, with 5:32 left in the quarter.
The two teams would trade baskets to be tied 6-6, with 4:57 left, but Clarksville High would close out the opening period by scoring the final seven points – including the last five by Ke'Oshea Deaver – to take a 13-6 lead after the first eight minutes of play.
The second quarter would see the Lady Coyotes get back-to-back baskets from Worthy to cut the CHS lead back to 13-10, with 5:24 left before intermission.
The Lady Wildcats would get a bucket from Outlaw to put the CHS lead back out to five, 15-10, but West Creek would tie the game for the third time in the first half, at 15-15, behind a three from Talitha Harrison and a bucket from Worthy, with 3:21 left.
Clarksville High would retake the lead, 18-15, on a three by Deaver, but Worthy knocked down a shot with nine seconds left to one-point CHS advantage at halftime, 18-17.
Both teams will return to District 10-AAA action on January 10th, as Clarksville High will play host to Springfield High School and West Creek welcomes Northeast High School.
Photo Gallery
Box Score
West Creek 45, Clarksville High 33
| | | | | | |
| --- | --- | --- | --- | --- | --- |
| | 1 | 2 | 3 | 4 | Final |
| Clarksville High Lady Wildcats | 13 | 5 | 5 | 10 | 33 |
| West Creek Lady Coyotes | 6 | 11 | 16 | 12 | 45 |
Clarksville High: J.K. Cummings 3, Ke'Oshea Deaver 8, LaPrasha Fair 2, Hannah Goins 2, TaTayana Outlaw 8, Haley Bearden 10. Team totals 11 9-15 33.
West Creek: Madison Kurtz 4, Shayla Smith 5, Ariana Prather 14, Quynerria Davis 2, Talitha Harrison 5, Latoya Winters 2, Tyisha Worthy 13. Team totals 21 2-9 45.
3-point field goals: Clarksville High 2 (Deaver 2), West Creek 1 (Harrison 1).
Records: Clarksville High 7-8, 3-2 District 10-AAA; West Creek 7-10, 4-1 District 10-AAA.