Edwardsville, IL – SIU Edwardsville closed on a 13-1 run over the final 2:11 to erase an eight-point deficit and stun Austin Peay State University, 71-67, Thursday night in Ohio Valley Conference action played at the Vadalabene Center.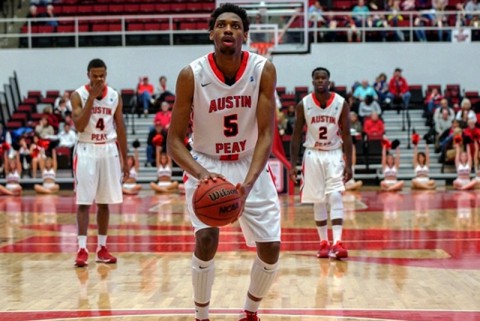 It was the third down this season the Governors, 8-10 overall and 2-2 in the OVC, have blown late-game leads in the losing minutes. Trailing 66-58 with 2:27 left, the Cougars (5-13 overall/2-3 OVC) mounted a frenetic comeback.
It started with a three-pointer by Maurice Wiltz, who left early in the second half with a leg injury.  Then Will Triggs grabbed his own missed shot with 1:37 left but was called for traveling trying to make the put back layup.
With the Governors concentrating on the Cougars perimeter scorers, center Keaton Jackson spun inside for an easy shot just 13 seconds into the shot clock, cutting the deficit to 66-63 with 1:21 left.
Facing full-court pressure the Governors got it past midcourt into the hands of sophomore guard Cory Arentsen, who, in spinning away from the pressure, lost the ball out of bounds. SIUE responded when Wiltz knocked down another three with 57 seconds left to tie the game at 66.
The Govs' Demarius Smith then was fouled with 29 seconds left. He made one of two to give APSU its last lead, 67-66.
The Cougars Donivine Stewart then watched his three-point attempt spin out. But Rozell Nunn climbed over Travis Betran, grabbed the rebound and forced it in, being fouled on the play with 12.7 seconds left. He made the free throw to give SIUE a two-point 69-67 lead.
APSU point guard Damarius Smith brought the ball up court against the SIUE pressure and exploded to the hole. However, his finger-role layup attempt bounced off the back iron.
The Cougars Keaton Jackson rebounded the ball and was fouled with five seconds left. The 6-10 center knocked down both free throws, ending any Govs chance for a last-second tie.
The Govs finished the night shooting 25 of 48 (52.1 percent) from the floor and out-rebounded the Cougars by a dominating 34-22 margin. However, all that was negated as the Govs year long issue, turnovers, again surfaced.
Averaging only 10 turnovers per game in the first three OVC games, the Govs had 13 by halftime and finished with 22. In fact, APSU is now 1-8 this season when committing 18 or more turnovers.
Chris Horton led the Govs with 20 points and 11 rebounds, his ninth double-double this season. However, Horton failed to take a shot in the final 8:42. Triggs finished with 17 points and a season-high nine rebounds while Smith ended with 11.
Nunn led SIUE with 15 points while Stewart and Kris Davis chipped in with 11.
Box Score
Austin Peay vs SIUE
Thursday, January 16th, 2014 | 7:05pm
Edwardsville, IL | Vadalabene Center
Austin Peay 67
Total
3-point
Rebounds
##
Player
p
fgm-fga
fgm-fga
ftm-fta
off-def
tot
pf
tp
a
to
blk
stl
min

02

WILLIAMS, Zavion

*

1-3

0-2

0-0

0-2

2

1

2

2

6

0

0

21

04

BETRAN, Travis

*

3-11

1-6

2-2

1-1

2

0

9

3

3

0

0

36

05

HORTON, Chris

*

8-11

0-0

4-7

3-8

11

1

20

1

0

1

0

34

10

TRIGGS, Will

*

7-10

0-0

3-5

3-6

9

1

17

3

5

0

1

35

22

SMITH, Damarius

*

3-7

1-3

4-5

0-2

2

4

11

5

1

0

2

37

15

FREEMAN, Chris

–

0-0

0-0

0-0

1-0

1

1

0

0

1

0

0

4

20

ARENTSEN, Cory

–

2-4

2-4

0-0

0-3

3

1

6

2

2

0

2

24

21

HERRING, Preston

–

1-1

0-0

0-0

0-0

0

0

2

0

1

1

0

5

23

MBOUP, Serigne

–

0-1

0-0

0-0

0-1

1

0

0

0

1

0

0

2

24

DYSON, Ed

–

0-0

0-0

0-0

0-1

1

0

0

0

2

0

0

2

TM

TEAM

–

–

–

–

1-2

3

–

–

–

–

–

–

–

Totals…………..

–

25-48

4-15

13-19

9-26

35

9

67

16

22

2

5

200

52.1%

26.7%

68.4%

Team summary:
FG
3FG
FT
1st Half:

13-23

2-6

6-8

56.5%

33.3%

75.0%

2nd Half:

12-25

2-9

7-11

48.0%

22.2%

63.6%
SIUE 71
Total
3-point
Rebounds
##
Player
p
fgm-fga
fgm-fga
ftm-fta
off-def
tot
pf
tp
a
to
blk
stl
min

01

DAVIS, Kris

*

2-9

1-3

5-8

0-1

1

0

10

3

1

0

1

34

02

WILTZ, Maurice

*

3-5

3-5

0-0

0-0

0

2

9

0

0

0

1

17

23

NUNN, Rozell

*

6-11

1-2

2-3

1-6

7

2

15

3

4

0

2

37

25

LESTER, Ray

*

3-4

0-0

0-0

0-3

3

4

6

2

1

0

3

27

32

STEWART, Donivine

*

5-13

0-6

0-0

2-1

3

1

10

5

1

0

1

31

03

JACKSON, Keaton

–

3-4

0-0

2-4

2-2

4

4

8

0

3

0

2

14

04

JOHNSON, Tim

–

4-7

1-3

0-0

0-3

3

1

9

1

0

0

1

23

05

FIORENTINOS, Grant

–

0-0

0-0

0-0

0-0

0

3

0

0

0

0

0

2

10

CRAIG, Cameron

–

0-0

0-0

0-0

0-0

0

0

0

0

0

0

0

1

15

SALECICH, Christian

–

2-4

0-2

0-0

0-1

1

0

4

3

0

0

1

14

TM

TEAM

–

–

–

–

0-0

0

–

–

–

–

–

–

–

Totals…………..

–

28-57

6-21

9-15

5-17

22

17

71

17

10

0

12

200

49.1%

28.6%

60.0%

Team summary:
FG
3FG
FT
1st Half:

15-31

2-10

2-6

48.4%

20.0%

33.3%

2nd Half:

13-26

4-11

7-9

50.0%

36.4%

77.8%
| | | | | |
| --- | --- | --- | --- | --- |
| Score by Periods | 1st | 2nd | Total | |
| Austin Peay | 34 | 33 | 67 | Record: (8-10, 2-2 OVC) |
| SIUE | 34 | 37 | 71 | Record: (5-13, 2-3 OVC) |
Officials: Mark Morrison, Donnie Olson, Bobby DawTechnical fouls: Austin Peay-None. SIUE-None.

Attendance: 1359