Clarksville, TN – It went down to the last match, but Austin Peay State University men's tennis team pulled out a 4-3 victory against Chattanooga, Saturday, at the Austin Peay Tennis Center.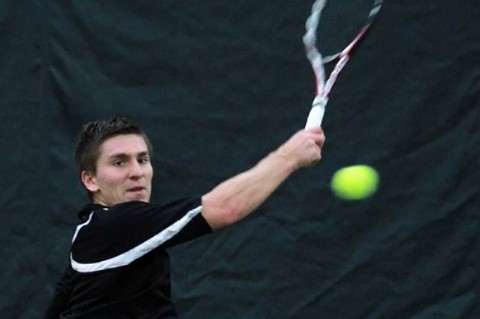 It was an auspicious beginning for the Govs; for just the sixth time in head coach Ross Brown's tenure, the Govs dropped the doubles point.
Juniors Iago Seffrin and Dimitar Ristovski took their match at No. 2 doubles, defeating Luke Saunders and Derrick Brown, 6-4.
The Govs trio of all-conference performers lived up to their billing, taking the top three singles matches. Senior Jasmin Ademovic took his No. 1 match with ease, dispatching Jorge Varon, 6-4, 6-3.
Ristovski and junior Aleksas Tverijonas were both pushed to three sets before emerging victorious. Ristovski defeated Pavels Grigorjevs 6-0, 1-6, 6-2, while Tverijonas rallied from a first-set loss to win 4-6, 6-1, 6-4.
Making his first spring appearance, sophomore Evan Borowski clinched the victory for the Govs. He battled Austin Boaz at No. 6 singles, emerging victorious with a 6-3, 3-6, 6-5 win to keep the Govs undefeated early in the 2014 campaign.
Austin Peay takes a lengthy break before its next match. The Govs travel to Southern Illinois for the 2014 road opener, scheduled for a 2:00pm start, February 14th.
Box Score
Austin Peay 4, Chattanooga 3
Saturday, February 1st, 2014
Clarksville, TN | APSU Tennis Center
Singles competition
1. ADEMOVIC, Jasmin (APSU) def. Jorge Varon (UTC) 6-4, 6-3
2. RISTOVSKI, Dimitar (APSU) def. Pavels Grigorjevs (UTC) 6-0, 1-6, 6-2
3. TVERIJONAS, Aleksas (APSU) def. Luke Saunders (UTC) 4-6, 6-1, 6-4
4. Gino Delavalle (UTC) def. SEFFRIN, Iago (APSU) 6-5, 2-6, 4-3
5. John Peacey (UTC) def. MITCHELL, James (APSU) 6-0, 5-6, 6-2
6. BOROWSKI, Evan (APSU) def. Austin Boaz (UTC) 6-3, 3-6, 6-5
Doubles competition
1. Jorge Varon/John Peacey (UTC) def. ADEMOVIC, Jasmin/TVERIJONAS, Aleksas (APSU) 6-5 (10-8)
2. SEFFRIN, Iago/RISTOVSKI, Dimitar (APSU) def. Luke Saunders/Derrick Brown (UTC) 6-4
3. Pavels Grigorjevs/Gino Delavalle (UTC) def. MITCHELL, James/BOROWSKI, Evan (APSU) 6-3
Match Notes
Chattanooga 1-2
Austin Peay 2-0