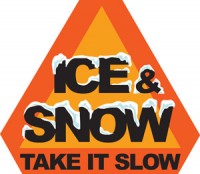 Clarksville, TN – Light rain overnight combined with a light fine snow in the early morning hours could cause some patchy ice on area roadways by daybreak Monday, February 3rd, 2014.
The temperature has dropped to 28°F and may continue to drop until sunrise. Ice is currently forming on vehicles and sidewalks.
Please exercise caution during the morning commute as any ice that forms will cause hazardous driving conditions through mid-morning.
Those that must be on the roadways in the morning your give themselves plenty of extra time to clear ice from windshields and a slow commute.
The high for Monday is expected to be around 36°F and road conditions should clear up by mid-day.