Fort Campbell, KY – Fort Campbell MWR is excited to announce that we will host The Sesame Street/USO Experience for Military Families – a free traveling show exclusively for the military and their Families – on April 11th and 12th.
These free shows will be held at Wilson Theater at 6:00pm on April 11th and at 1:00pm and again at 3:30pm on April 12th.
Doors will open 30 minutes prior to each show.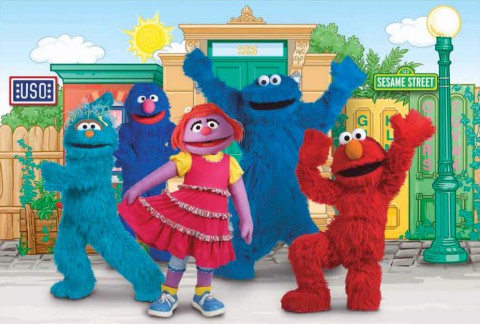 Even though it is a free show, tickets are necessary in order to not exceed the maximum capacity allowed in the building per fire code regulations. Tickets will be available at Cole Park Commons on April 7th from 8:00am to 5:30pm.
If any tickets remain after 5:30pm on April 7th, they will be available at the MWR Public Relations window in building 2577-A, room 109. MWR Public Relations i is open Monday through Friday from 9:00am to 11:30am and 12:30pm to 3:30pm.
Tickets are for active duty Soldiers and their immediate Family members only. They may be picked up by either the active duty service members or their Spouse. A military I.D. card will be required to pick up tickets.
The number of tickets available to each Family is limited to the number of Family members they have registered in the MWR household RecTrac system. Every person needs a ticket, regardless of age, including infants being held in your arms.
On the day of the show, we will have a stand-by line which will be seated five minutes before the show – if there are any seats available.
No strollers, outside food or beverages and no video cameras will be allowed in Wilson Theater. Tickets are not for resale!
For more information about the Sesame Street/USO Experience for Military Families, please call MWR Public Relations at 270.798.7535 or visit www.uso.org/sesame/ .