Topic: MWR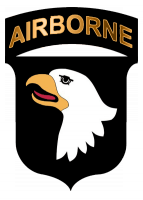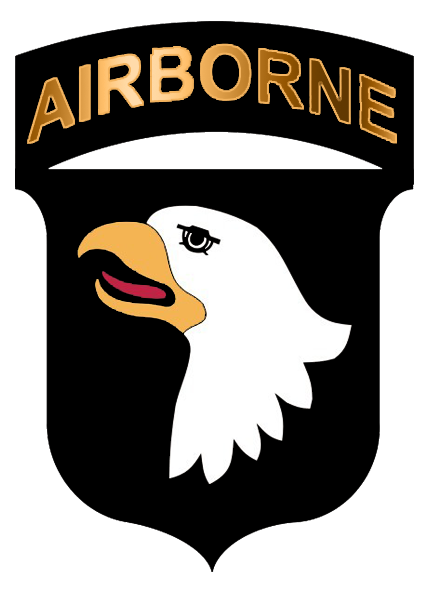 Fort Campbell, KY – Fort Campbell's new Digital Garrison mobile app is a ready resource for Soldiers, Families, retirees veterans, government employees and individuals needing quick access to information about installation services and events.
The Digital Garrison app is a joint effort between the United States Army Installation Management Command, the Army and Air Force Exchange Service and Morale, Welfare, and Recreation. It pulls information from each of those entities and serves as a directory for on-post services.
"Certainly it provides information useful for Soldiers and their Families, but it also reaches out beyond the installation gates," said Robert Jenkins, Fort Campbell Director of Public Affairs.

«Read the rest of this article»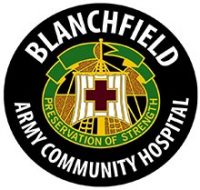 Fort Campbell, KY – Blanchfield Army Community Hospital (BACH), Fort Campbell Army Community Service and Morale, Welfare, and Recreation will host "Light up the Night", a candlelight walk and vigil, September 10th at 7:30pm in the hospital's parking lot, between the A and E buildings.
The event is hosted in conjunction with the Army's observance of National Suicide Prevention Month.
"We encourage everyone within the community to come out and support the walk," said 1st Lt. Anthony Priest, BACH social work intern who organized this year's event. "We will have an array of support at the event if anyone needs to talk or seek help."
«Read the rest of this article»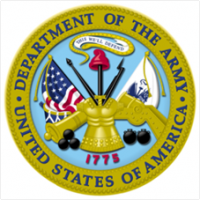 Redstone Arsenal, AL – An installation employment transfer program is being expanded by the Army Materiel Command to provide Nonappropriated Funds employees better opportunities as they move with their Soldier or civilian through a career that demands mobility.
The NAF Child and Youth Services Employee Assignment Tool developed by the Army G-1 Civilian Personnel NAF Division – open only to employees working in child and youth programs at Army installations – is now the NAF Civilian Employment Assignment Tool – open to most employees working in NAF programs, which include the Army's Family, Morale, Welfare and Recreation activities such as bowling centers, libraries, gyms and leisure travel offices as well as child and youth services.
«Read the rest of this article»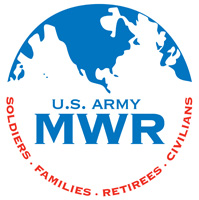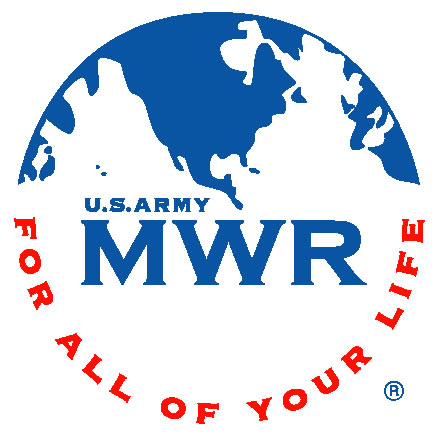 Fort Campbell, KY – The staff of Morale, Welfare and Recreation remain determined to do as much as they can to continue their mission of supporting Fort Campbell's Army Family during the COVID-19 pandemic.
Following COVID-19 Coronavirus protocols of social distancing, MWR facilities were closed to slow the spread of the virus. Through innovation, the staff created ways to engage Families at the Robert F. Sink Memorial Library with craft giveaways and serve patrons their favorites dishes from on-post eateries with a new service called MWR to Go.
«Read the rest of this article»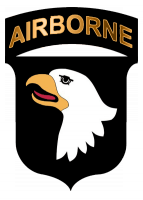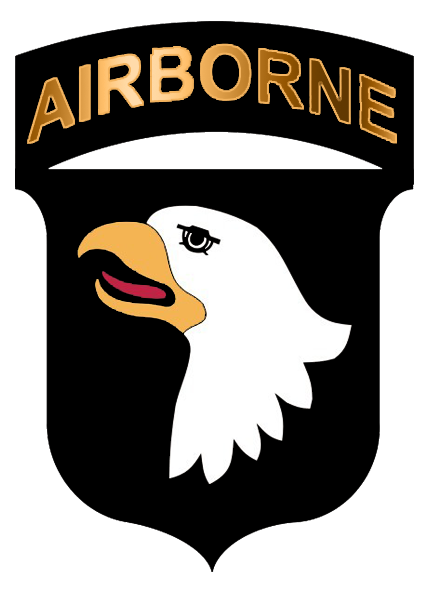 Fort Campbell, KY – On Friday, December 6th, 2019, the 101st Airborne Division (Air Assault) and Fort Campbell Family and Morale, Welfare and Recreation will host the Annual Division Tree Lighting Ceremony to kick off the holiday season. The ceremony will begin at 5:30pm.
The ceremony will include holiday music from the 101st Airborne Division Band, season's greetings from Fort Campbell and 101st Airborne Division leadership, caroling, holiday activities, a surprise visitor from the North Pole and more.
«Read the rest of this article»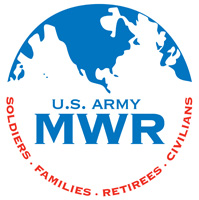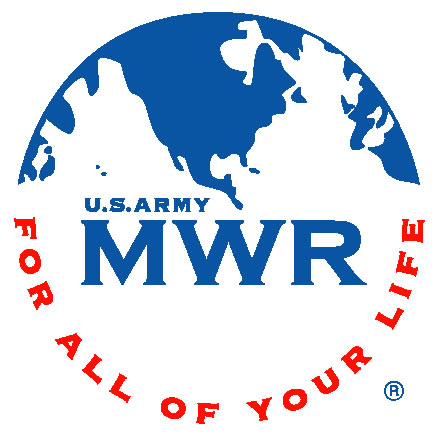 Fort Campbell, KY – Fort Campbell MWR will be holding an Easter Eggstravaganza Easter Egg hunt on Saturday, March 31st, 2018 from 10:00am until 2:00pm. This free Family friendly event will include egg hunts (by age), a DJ, face painting, and inflatables. Don't forget your camera – there will be photo opportunities with the Easter Bunny!
The egg hunts are free but MWR does limit the number of spaces to make sure they have enough eggs to hunt for everyone to have an enjoyable experience.
«Read the rest of this article»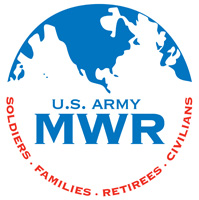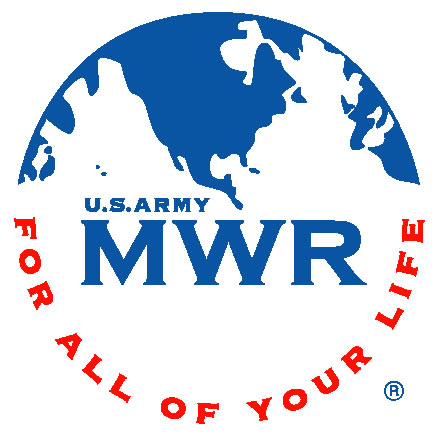 Fort Campbell, KY – Fort Campbell MWR will hold an open bid auction for abandoned vehicles and MWR equipment on March 17th, 2018.
The MWR equipment that will be auctioned has been deemed in excess, to be unusable, or no longer cost effective to maintain. This equipment will be sold in "as is" condition and there is no warranty or guarantee.
Everyone must have cash or a credit card and be at least 18 years of age to receive a paddle for bidding and to place a bid.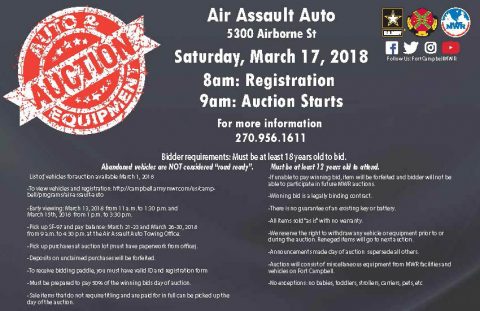 «Read the rest of this article»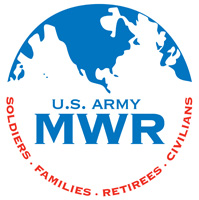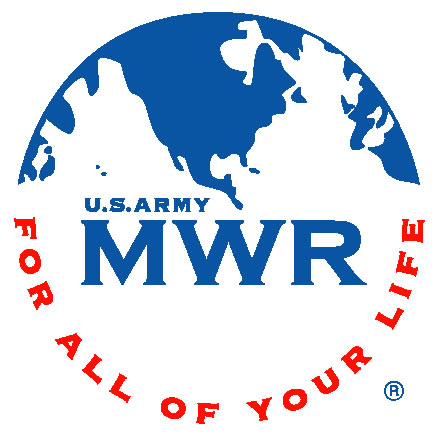 Fort Campbell, KY – Fort Campbell Better Opportunities for Single Soldiers (BOSS) volunteers at Manna Café on the third Saturday of each month.
Manna Café is a local soup kitchen where BOSS participants will have a chance to serve, clean and organize the shelves.
Meet at Warrior Zone (3910 Indiana Avenue) at 8:15am.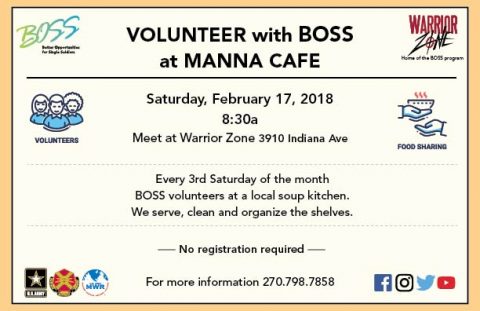 «Read the rest of this article»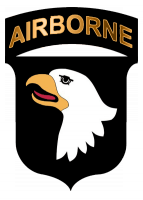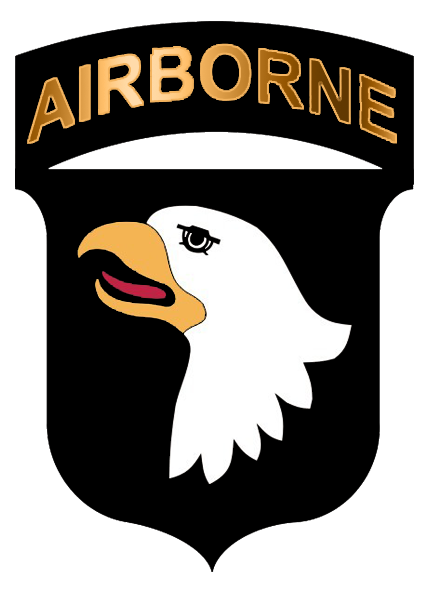 Fort Campbell, KY – For Friday, January 12th, 2018, the Senior Commander of U.S. Army Fort Campbell has authorized the installation to remain open for limited operations only. Mission Essential Personnel should report to work. Dependent Schools are closed. For questions regarding Mission Essential, Civilian employees contact your supervisors, Soldiers contact your unit Commander.
The Commissary will be closed and plans to open normal hours on Saturday.
The Exchange will attempt to open all facilities at normal hours, however, the priority is to open Kentucky Express and Gardner Hill Express.
«Read the rest of this article»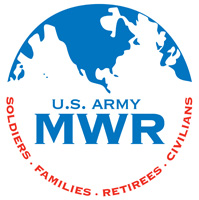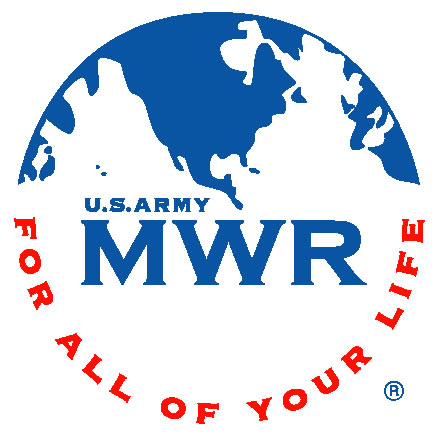 Fort Campbell, KY – On Saturday, December 9th, 2017 at 9:00am the Smokehaus Restaurant will hold a Charlie Brown Christmas Breakfast.
Table side visits and photos with Charlie Brown, Snoopy and friends from the cast of "A Charlie Brown Christmas."
The cost is $10.00 per person – age 4 and up. Age 3 and under FREE with a paying adult.
Tickets can be purchased at the Smokehaus Restaurant, Leisure Travel Services (in the Exchange Mall) and online thru WebTrac.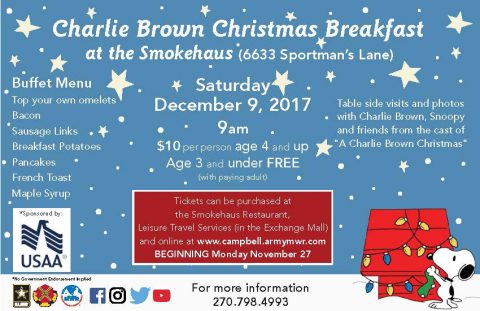 «Read the rest of this article»