APSU Sports Information

Murray, KY – Austin Peay State University track and field team picked up wins in 11 events at Friday's Margaret Simmons Invitational, including a sweep of the relay events, to top the field at Marshall Gage Track.
Head coach Doug Molnar used the Friday meet to try some people out at different spots, taking chances that netted 22 top-three finishes overall.
The Lady Govs won each of their dual battles against Murray State, Alabama A&M and Tennessee Tech on the Division I level.
"Really a dominating performance across the board today," Molnar said. "The conditions weren't ideal, but overall I thought we did a really nice job today."
The Lady Govs swept the top three spots in the 100m hurdles, with freshman Amia Butler turning in Austin Peay's top 2014 performance to date with a 14.22 mark. Freshman Myiah Johnson (14.35) and junior Natalie Olberding (15.15) were second and third, respectively. Olberding also won the 400m hurdles at 1:03.04.
Sophomore Kymmalett Ross won the 400m dash with a 58.30 mark, while junior Maikea Davis was close behind at 58.50. Junior Erika Adams emerged victorious from a deep 200m field with a 24.85 run.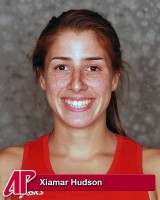 Junior Jessica Gray's 2:16.81 mark is a season-best for a Lady Govs runner, netting her first place. In longer distances, seniors Xiamar Hudson (10:00.47) and Kendra Kirksey (11:42.14) won the 3000m and 3000m steeplechase events, respectively. Hudson also grabbed a third-place finish in the 800m with a 2:18.66 mark.
"That was a nice personal-best for Adams in the 200 meter," Molnar said. "Hudson also ran a really good race for us."
Austin Peay's deep relay squads provided the top three finishing times in the 4x100m relays and the top two in the 4×400.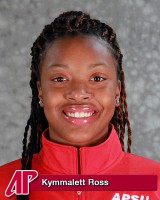 Over in the field events, freshman Chancis Jones was Austin Peay's top Friday performer. The Chattanooga native won the long jump at 5.76m and was runner-up in the triple jump with an 11.50m mark. Butler was runner-up in the long jump (5.47m) and freshman Kaylnn Pitts was second in the high jump at 1.52m.
Coming off her personal  best in the pole vault at last week's Vanderbilt Black and Gold, senior Molly Basch won this week's event with a 3.35m mark.
Austin Peay returns to action next weekend at the WKU Invitational.