Austin Peay Sports Information

Madison, MS – Although rain forced the Reunion Intercollegiate to be stopped with anywhere from three to six holes left to play for most teams, Monday afternoon, Austin Peay State University coach Kirk Kayden liked what he saw from him Governors during a day of constant interruptions.
Unofficial results show the Governors tied for first with Southern Mississippi at 1-over par, but APSU's head coach knows his team has another stroke to add to that total as it is between reporting stations for "live stats."
After storms prevented the tourney from starting until noon, Monday, the event has been reduced to 36 holes from the original 54 scheduled.
"We have an experienced group and they have been through this a lot the last couple of years," Kayden said. "They handled it like they usually do and handled it in a mature manner.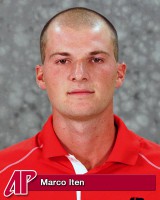 "As we talked last night, I basically told them if you can keep yourself focused and not worry about the conditions, then you already have beaten a lot of the field—you will be mentally prepared for it."
A pair of seniors, Marco Iten and Trey Tarpley, are 1-under while junior Chris Tucker is at 1-over with senior Anthony Bradley and sophomore Chris Baker at 2-over.
Bradley got off to a terrific start, gaining two birdies in the first five holes but a pair of bogeys but after slipping back to even par, a triple bogey on No. 5 when Bradley couldn't find his ball off the tee, put him 3-over before coming back with a birdie.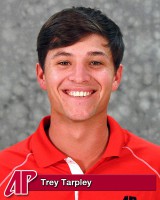 "We will have the same pairing (Southern Mississippi and Central Arkansas) Tuesday," Kayden said. "We should be pretty comfortable for the final 21 holes or so tomorrow. When you are in a pairing with one of the teams or both of the teams are playing well, that can make a difference.
"We do not have to worry about what everybody else is doing so our guys can just concentrate on the golf course."