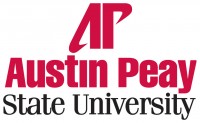 Clarksville, TN – This spring, the fraternity and sorority community at Austin Peay State University has continued to enhance the University's reputation with several members and administrators taking on major leadership roles and earning prestigious awards and recognitions.
The recent accomplishments are listed below.
Andrew Montgomery, a member of the Tau Phi Chapter of Alpha Phi Alpha Fraternity, Inc. at APSU, began his term as assistant district director at Alpha Phi Alpha in March at their Regional Convention in Chattanooga. This position makes Montgomery the leader and voice of the undergraduate brothers for the state of Tennessee.
Carrie Taylor, a member of the Eta Gamma Chapter of Alpha Delta Pi, recently became a member of the inaugural graduating class of Emerging Leaders at the Southeastern Panhellenic Conference (SEPC), hosted last month in Atlanta. Taylor is the first person from APSU to complete this program, and she hopes to encourage more women to be a part of the experience. Additionally, the College Panhellenic Council at APSU received recognition from Gamma Sigma Alpha National Greek Academic Honor Society at SEPC for their high academic performance in Spring and Fall 2013.
On April 6th-7th, the North-American Interfraternity Conference (NIC) recognized two APSU administrators for their commitment to the fraternity and sorority experience through their leadership and service to the fraternal movement.
Gregory Singleton, associate vice president for Student Affairs and Dean of Students, received the NIC Alumni Award of Distinction. The Alumni Award of Distinction recognizes the fraternity member who has given of his time, talents and service to the betterment of the fraternity. The service can be given at the local, regional or national level. Singleton's commitment not only to Austin Peay but Kappa Alpha Order has only elevated APSU to new heights within the fraternity and sorority community.
Victor Felts, director of Student Life and Engagement, received the NIC Silver Medal. In the past 30 years, the NIC Silver Medal has been bestowed to recognized leaders who have taken the lead role or roles in advancing the fraternal movement through acts of service or leadership. Further, the NIC specifically recognized Felts for his eight years of service as the Southeastern Interfraternity Conference (SEIFC) executive director, as well as his instrumental role in creating a fluid partnership between the NIC and SEIFC. Specifically, the NIC quotes, "Mr. Felts has devoted himself to progressing the fraternal movement through educational initiatives in the Southeast that challenge undergraduates and Interfraternity Councils to be better men that in turn make the Greek experience better."
For more information, contact Stephen Dominy, coordinator of Fraternity and Sorority Affairs at dominys@apsu.edu.