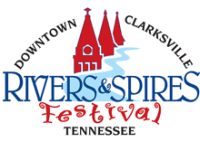 Clarksville, TN – On Friday, April 25th, CDE Lightband held a kick off event for their Gig City Gaming center at the Rivers and Spires Festival. The gaming center is powered by CDE's new gigabit internet service. All games are free to play.
Before the ceremony, Montgomery County Mayor Carolyn Bowers and Clarksville Mayor Kim McMillan faced off on Dance Dance Revolution. They both had a good with this gaming experience.
If you have not checked out the Gig City Gaming center then your missing out. There are over 50 titles to choose from. The gaming systems include the Xbox 360, Xbox One, Play Station 3 and Play Station 4.
The Gig City Gaming area will be host to several different types of games, including titles such as Call of Duty, HALO, Dance Central and Super Street Fighter 4. Early in the day, the younger crowd will find the games that are more up their alley, but as the day goes on, the content may get a little to rough for the little ones.
One of the best features of the gaming center is that it is powered by the speed and reliability of a full GIG of internet bandwidth by CDE. That means there will be no lag, slow down or freezing of your game. Just a smooth gaming experience.
The Gig City Gaming area is sure to be very popular, so staff will be moderating the play time of all participants. Many of the games have a definite start and finish, so once a player finishes a round, match, dancing, or whatever the case might be, they will be required to rotate out to allow the next waiting player time to play.
Gaming, provided by Layer 3 Communications and Brocade Communications Systems, will be available Saturday, April 26th from 10:00am to 8:00pm.
So while your at Rivers and Spires, come by the underground parking garage on Franklin Street between Second and Third Streets and experience the Gig City Gaming Center.
CDE's Gig City Gaming Area Opening Ceremony
Photo Gallery
About the Rivers and Spires Festival
The 12th Annual Rivers and Spires Festival, April 24th-26th in downtown Clarksville, is free and open to the public.
The Festival features five stages of music and entertainment, arts and crafts, marketplace, food vendors and activities for all ages.
For more information and a complete schedule, visit www.riversandspires.com .