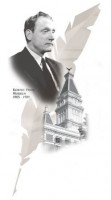 Clarksville, TN – What local freelance writer has published more than 3,000 magazine articles, is founder and host of the award-wining Wired2Fish Radio show that reaches 1.5 million listeners on about 300 radio stations throughout the country, is co-host of Ducks Unlimited on the Pursuit Channel, is Editor-at-Large for "Ducks Unlimited Magazine" and is a Senior Writer for "Bassmaster Magazine"?

The answer is Wade Bourne. Bourne was a featured speaker this year at the Tenth Annual Clarksville Writers' Conference. On Thursday, he spoke about "Making Extra Income as a Freelance Magazine Writer" and on Friday, his topic was "Business Practices of Freelance Magazine Writing."

For almost 40 years, he has supported his family and himself by doing what he loves the most—hunting, fishing, camping and enjoying the outdoors—and then writing and talking about his adventures.. He is a 2003 inductee into the Legends of the Outdoors Hall of Fame and a 2005 inductee into the National Fresh Water Fishing Hall of Fame.


Helpful hints he gave attendees at the conference were practical and easily followed because they were derived from personal experience.

After Bourne had sent in an article he wrote on a yellow legal pad to "Tennessee Conservationist" and it was accepted, he earned $60. He then wrote another article called "August Storms" and it too gleaned him $60. This led him to a visit with the editor, Ms. Luther, who encouraged him to pursue a career as a freelance writer.

After he finished six years in the U.S. Air Force and had a master's degree in hand, he went to New York and had interviews with the top three outdoors magazines of the time–"Field and Stream," "Outdoor Life," and "Sports Afield." He believed that if he could get one assignment from those interviews, it would pay for his expenses on the trip. He ended up getting eight or nine assignments—and he never looked back.

Suggestions that Bourne had for would-be freelancers include the following:

Editors have problems. They need to fill pages of their magazines with interesting features and short fillers. You are the problem-solver because you are the one who can write. Write to the editor with ideas that might appeal. Include your credentials and some samples of your work if you have never written for this magazine before.

Before you suggest an idea, make sure you have studied the magazine thoroughly and know not only the style of writing but what kind of articles the magazine publishes. Study the three to five markets for which you want to write like you would a textbook. You need to understand the types of transitions, endings and formats the publication requires.

Choose a specialty so that you can become known for this type of article. Learn who the experts are in your field and form relationships with these people and the editors for whom you want to work.

At first, you'll need to approach small magazines that may not pay as much; this is how you get samples of your work to present to editors of the large magazines that pay well. Don't get stuck at a level where you are earning only $150 an article when you could be earning ten times that by working for a higher-paying publication.

Always be professional. Get your work in on time. Publications have deadlines that have to be met. If you are not on time, you will not get another chance. Don't overload your schedule until you learn how much time you need for an article. Make sure you have your facts correct and that goes for grammar and spelling too.

Find on the Internet or request manuscript submission formats for the publication. You can also ask for back issues—and there may be a charge for these. Don't hesitate to invest in what you need to get the job done.

If you are going to send a query by "snail mail," have distinctive envelopes and paper that have your name, address, phone numbers, and e-mail printed on both. This shows the editor that you are serious about your work. Read up on the requirements of your intended publication to learn if the editor wants e-mail or mailed queries and what other requirements are suggested. If a self-addressed stamped envelope is needed, don't forget to include this or you won't get an answer.

Use your imagination to write something you would enjoy reading yourself. If you don't like it, your reader won't either—and it probably won't impress the editor enough to ever get published!

Don't bother sending things in over the transom. These articles are rarely read and just gather dust. As a freelancer, you need checks in your mailbox. You don't have time to waste sending out unused articles that you've spent a great deal of time on.

Connect your introduction or lead with your ending. Use short sentences and active voice, strong verbs that move the story along and keep the reader's interest.

When you made an appointment with an editor, she or he sees you face-to-face and you then have a relationship. Show up looking sharp.

He told the story of his initial visit to New York. His wife bought him a green jacket to wear. Introduced to subeditor who took him to lunch at Grand Central Station, Wade told the guy that he had noticed that hardly any New Yorkers wore any colors but navy, gray or black. He asked if he had made a faux pas by wearing his green jacket. The guy replied that people probably just assumed that Wade was a doorman!

Wade Bourne advised his listeners to work as a freelance writer. "I've never grown tired of writing," he insisted. "It invigorates me every day."

He is a graduate from Clarksville High School and the University of Tennessee, he completed his master's degree in journalism at Murray State University.



About Sue Freeman Culverhouse
Author of Tennessee Literary Luminaries: From Cormac McCarthy to Robert Penn Warren (The History Press, 2013) Sue Freeman Culverhouse has been a freelance writer for the past 36 years. Beginning in 1976, she published magazines articles in Americana, Historic Preservation, American Horticulturist, Flower and Garden, The Albemarle Magazine, and many others. Sue is the winner of two Virginia Press Awards in writing.

She moved to Springfield, Tennessee in 2003 with her sculptor husband, Bill a retired attorney. Sue has one daughter,  Susan Leigh Miller who teaches poetry and creative writing at Rutgers University.

Sue teaches music and writing at Watauga Elementary School in Ridgetop, Tennessee to approximately 500 students in kindergarten through fifth grade. She also publishes a literary magazine each year; all work in the magazine is written and illustrated by the students.

Sue writes "Uncommon Sense," a column in the Robertson County Times, which also appears on Clarksville Online. She is the author of "Seven keys to a sucessful life", which is  available on amazon.com and pubishamerica.com; this is a self-help book for all ages.

Web Site: http://culverhouseart.com/
Email:
Sections
Arts and Leisure
Topics
Clarksville, Clarksville TN, Clarksville Writer's Conference, Ducks Unlimited, TN, Wade Bourne