Clarksville, TN – This Saturday, June 21st, the City of Clarksville's Parks and Recreation Department will introduce it's new, outdoor concert series at Liberty Park, located at 1188 Cumberland Drive, Clarksville.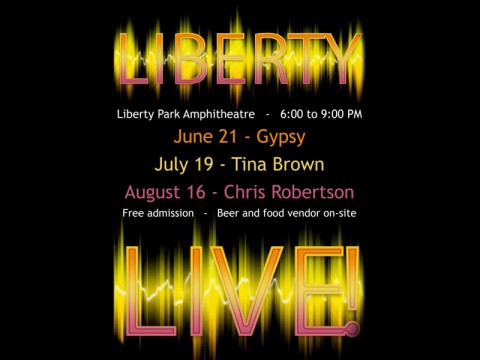 Liberty Live!, the new series, will kick off its season with Gypsy, a Fleetwood Mac tribute band. Concerts begin at 6:00pm and continue until 9:00pm.
Two additional shows are scheduled for the season, including: Tina Brown on July 19th, and Chris Robertson on August 16th.
Admission is free and a beer and food vendor will be on-site. Like us on Facebook (www.facebook.com/clarksvillespecialevents) for updated information and event photos.
Special thanks to our sponsors: Clarksville Family Magazine, and the Leaf Chronicle.
For more information, call Clarksville Parks and Recreation at 931.645.7476 or visit www.cityofclarksville.com/libertylive .
About the Clarksville Parks and Recreation Department
The mission of the Clarksville Parks and Recreation Department is to provide a variety of positive recreational experiences to enhance life values for individuals, families, and our diverse culture. To learn more, visit www.cityofclarksville.com , like us on Facebook, or call 931.645.7476.