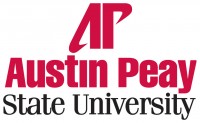 Clarksville, TN – In a tributary of Tennessee's Duck River, there lives a small fish that seems to have mastered the art of seduction. Because the females of the species prefer strong fathers, males use small yellow knobs on their fins that look like eggs to lure potential mates.
"It will fool the female into thinking he has more eggs than he really does, and she'll spawn with him," Zac Wolf, an Austin Peay State University graduate student, said. "It's been shown that females prefer larger nests, or at least males with larger nests."
The fish, known as the Egg-mimic darter, might employ other questionable tactics in its search for love.
Wolf believes this particular darter might take over abandoned nests or steal nests with eggs; all in an attempt to attract more females.
Once the eggs are laid in the nest, the male will guard his nest until the eggs hatch.
This brings up several questions, such as why would a male devote time to guarding eggs that are not biologically his? Wolf plans to investigate this behavior thanks to a prestigious new grant he was awarded.
Earlier this summer, he was one of only six students from across the country to receive the American Society of Ichthyologists and Herpetologists Edward C. Raney Fund Award.
"It's an international society, and it's not just master's students that apply, but Ph.D. students as well," Dr. Rebecca Johansen, APSU associate professor of biology, said. "For a master's student to win, it's a pretty big deal."
Next spring, during the spawning season, Wolf will use the award money to travel south to the Duck River, where he'll collect eggs out of nests and capture the males guarding those nests. Then Wolf, working with Johansen, will generate DNA data for each egg and conduct a parentage study to see if the male fathered all of the eggs in his nest.
"One theory is having an established nest will make you more attractive to the female," Wolf said. "But there really hasn't been a lot of research."
Johansen and Wolf are also assessing the conservation status of the Egg-mimic darter. The APSU Center of Excellence for Field Biology received a grant from the Tennessee Wildlife Resource Agency to study the fish, which was recently petitioned to be placed on the Federal Endangered Species List.
Their findings will help determine whether the fish is placed on that list.
Wolf earned his undergraduate degree from the University of Louisville, but he knew he wanted to pursue fish biology in graduate school. He mentioned this to a professor who put him in touch with Johansen and the APSU Center of Excellence for Field Biology.
"I spoke with her, and she had this awesome opportunity," he said. "And having the resources of the Center is awesome. It definitely outcompetes other programs I was interested in."
For more information on Wolf's research, contact the Center at .