Clarksville, TN – Clarksville Police have identified yesterday's shooting victim from Needmore Road as 19 year old Adam Marquez.
According to Detectives, Marquez was shot during an altercation which escalated into gunfire. Twenty year old Joshua Aretz, eighteen year old Clinton Hunter III and a seventeen year old juvenile have been charged with criminal homicide.
The adult suspects are currently being held in the Montgomery County Jail and the juvenile suspect is being held at the Columbia Juvenile Detention Center.
This is an on-going investigation.
Anyone with any information is encouraged to contact Detective Eric Ewing at the Clarksville Police Department Special Operations Unit 931.648.0656 ext. 5447.
Joshua Aretz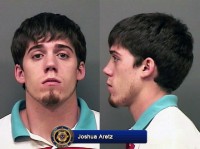 Name: Joshua Aretz
Date of Birth: 2/ 22/ 94
Gender: M
Race: W
Address: 2941 Nichole Road, Clarksville, TN
Arresting Officer: Zachary Forfang
Charged With: Homicide – Criminal, 1st, 2nd, Etc. Murder
Booked Into: Montgomery County Jail
Bond: $0.00
Clinton Hunter III
Name: Clinton Hunter III
Date of Birth: 4/ 5/ 96
Gender: M
Race: B
Address: 304 Barkwood Drive, Clarksville, TN
Arresting Officer: Zachary Forfang
Charged With: Homicide – Criminal, 1st, 2nd, Etc. Murder
Booked Into: Montgomery County Jail
Bond: $0.00