APSU Sports Information Office

Clarksville, TN – The scoring drought ended for Austin Peay State University women's soccer Friday night, but the Lady Govs still came out on the wrong side of a 3-1 decision against Samford at Morgan Brothers Soccer Field.
Austin Peay remains winless in September, falling to 1-7-0 overall on the season. Samford moves to 5-4-0.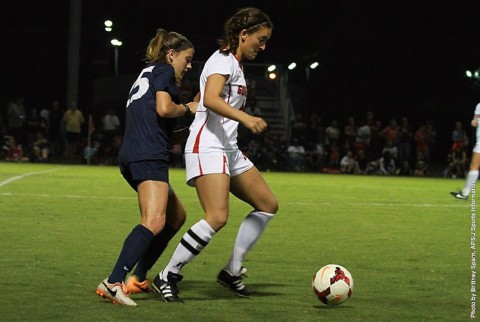 Sophomore
Gina Fabbro
got the scoring started for the Lady Govs in this one, heading one home off a lob into the box from senior
Claire Pultz
in the fourth minute.
For Fabbro, the tally is her season's first and career's eighth, putting her one behind Jocelyn Murdoch for 10th all-time. It also stopped an epic goal-less streak for the Lady Govs, who had gone 461:49 since their last goal.
Unfortunately, it would be a short-lived advantage for Austin Peay as the Bulldogs would find the equalizer in the 19th minute. Taylor Borman volleyed in a cross from Hallie Georgi, past freshman Lindsey Todd, who got the start for the Lady Govs.
Amanda Abbott got the go-ahead and insurance tallies on the board for Samford. In the 30th minute, she collected a rebound from a Todd save and deposited it into the lower left corner, and followed that up just two minutes later by banging home a cross from Jermaine Seoposenwe.
As has been the trend in 2014, head coach Kelley Guth opted to make a change in net after halftime, with junior Nikki Filippone answering the call. The Woodbridge, Ontario native responded with four second-half saves to help the Lady Govs keep it close.
"I thought Nikki came in and played well in the second half," Guth said. "The battle for starting keeper is still very competitive right now."
However, despite five shot attempts and three that forced saves from Samford keeper Anna Maddox over the final 45 minutes, Austin Peay could not chip away at the Bulldogs advantage.
Todd was saddled with the loss despite making three saves for Austin Peay. Maddox made four saves total for the win.
"We've still got issues to address as far as connecting when we're in possession and keeping our composure," Guth said. "We need that from our upperclassmen to lead this team. Other than that, we just need to keep working on what we've been working on."
The Lady Govs start Ohio Valley Conference play and conclude a three-game homestand their next time out when Austin Peay hosts Eastern Kentucky 7:00pm, Friday, September 26th at Morgan Brothers Field.
Box Score
Austin Peay (1-7-0) vs Samford (5-4-0)
| Goals By Period | 1 | 2 | Total |
| --- | --- | --- | --- |
| Samford | 3 | 0 | 3 |
| Austin Peay | 1 | 0 | 1 |
| Goal | Time | Team | Goal Scorer | Assists | Description |
| --- | --- | --- | --- | --- | --- |
| 1. | 03:47 | APSU | Gina Fabbro (0) | Claire Pultz | Headed ball past goalie from about 15 yards out into lower left corner |
| 2. | 18:16 | SAM | Taylor Borman (0) | Hallie Georgi | Volleyed home a cross from the left flank |
| 3. | 29:08 | SAM | Amanda Abbott (0) | | Shot, collected rebound and put it into lower left corner |
| 4. | 31:14 | SAM | Amanda Abbott (0) | Jermaine Seoposenwe | Got on the end of the cross |
Samford
| ## | Goalie | Minutes | GA | Saves |
| --- | --- | --- | --- | --- |
| 0 | Anna Maddox | 90:00 | 1 | 4 |
Pos
##
Player
Sh
SOG
G
A
Fouls
0
Anna Maddox
0
0
0
0
0
5
Abriella Argueta
0
0
0
0
0
7
Taylor Borman
3
2
1
0
0
9
Brittany Hoffman
1
0
0
0
0
10
Jermaine Seoposenwe
6
3
0
1
0
12
Amanda Abbott
4
3
2
0
0
14
Anna Allen
1
0
0
0
0
16
Katie Danehy
0
0
0
0
0
17
Heather Lacy
2
0
0
0
0
28
Olivia Cole
0
0
0
0
0
44
Alissa Hansen
0
0
0
0
0
–Substitutes–
TM
TEAM
0
0
0
0
11
11
Sara Smeltzer
2
2
0
0
0
20
Hallie Georgi
0
0
0
1
0
25
Virginia McNeill
0
0
0
0
0
26
Kinsey Sessions
0
0
0
0
0
Totals
19
10
3
2
11
Austin Peay