Austin Peay Sports Information Office

Knoxville, TN – Austin Peay State University's volleyball team had to fend off a stubborn Mercer squad in a three-set victory (25-17, 25-23, 25-19) to run its win streak to three matches and remain unbeaten at the DISH Lady Vol Classic at Thompson-Boling Arena.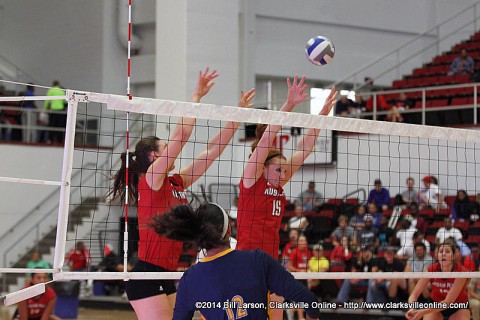 Austin Peay (6-9) trailed in each of the first two sets and needed late runs to secure the wins. The Lady Govs led early in the first set, but faced a 13-11 deficit. Austin Peay would score 14 of the final 18 points to win a 25-17 decision.
Mercer (3-8) threatened to win the second set going away, leading early and eventually building a 18-11 lead. Austin Peay rattled off six consecutive points, including a pair of kills by both seniors Hillary Plybon and Jada Stotts to tie the set 19-19. An Austin Peay block and another Plybon kill gave APSU a crucial two-point, 22-20, lead they would not relinquish en route to the 25-23 victory.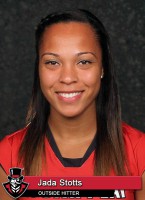 The Lady Govs came out of the break and left little to doubt in the third set. Mercer would score three of the first five points but APSU used a 5-1 run to take a 7-4 lead. Mercer would close within two points at 14-11, but could get no closer. The Lady Govs scored 11 of the match's final 19 points to secure the win.
"Serving and defense made the difference this afternoon," said Lady Govs head coach Taylor Mott. "Obviously we had some good offensive performances but when it was crunch time our servers and defense stepped up. I believe it was another step in the right direction."
Stotts led Austin Peay with a 13-kill outing. Freshman Ashley Slay and Plybon each chipped in 10 kills, Plybon also going errorless and finishing with a .556 attack percentage. Junior Samantha Strother added seven kills.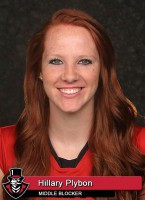 Austin Peay recorded 45 kills and committed just 13 errors to finish with a .314 attack percentage. The Lady Govs also recorded six blocks, with Strother and Plybon each posting four blocks. Junior April Adams recorded 11 of APSU's 48 digs.
Mercer was limited to 34 kills with three players recording seven kills to pace the squad.
Austin Peay concludes its nonconference slate and its trip to Knoxville with a 3:30pm (CT), Saturday contest against Memphis.
Box Score
Austin Peay 3 vs Mercer 0
| Set Scores | | 1 | 2 | 3 | Team Records |
| --- | --- | --- | --- | --- | --- |
| Mercer | (0) | 17 | 23 | 19 | 3-8 |
| Austin Peay | (3) | 25 | 25 | 25 | 6-9 |
Austin Peay (6-9)
Team Attack By Set
Set
K
E
TA
Pct
1
11
4
28
.250
2
18
6
40
.300
3
16
3
34
.382
Total Team Blocks: 6.0
LEADERS:
Kills-Aces-Blocks:STOTTS, Jada (13-0-1); SLAY, Ashley (10-0-1); PLYBON, Hillary (10-0-4); STROTHER, Samantha (7-0-4); EBRIGHT, Sammie (3-1-1); LANDON, Liz (2-0-1)Assists:MARSELLIS, Aubrey (41); SLAY, Ashley (1); ADAMS, April (1)Digs: ADAMS, April (11); STOTTS, Jada (10); MARSELLIS, Aubrey (8); STROTHER, Samantha (8); EBRIGHT, Sammie (7); PLYBON, Hillary (3); SLAY, Ashley (1)
Mercer (3-8)
| ## | Player | SP | K | E | TA | PCT | A | E | SA | SE | RE | DIG | BS | BA | Pts |
| --- | --- | --- | --- | --- | --- | --- | --- | --- | --- | --- | --- | --- | --- | --- | --- |
| 2 | Ellie James | 3 | 7 | 1 | 17 | .353 | 0 | 0 | 1 | 1 | 1 | 6 | 0 | 0 | 8.0 |
| 5 | Cara Tripp | 3 | 3 | 1 | 7 | .286 | 1 | 0 | 0 | 0 | 0 | 0 | 1 | 1 | 4.5 |
| 7 | Jordan Gollon | 3 | 4 | 1 | 10 | .300 | 0 | 0 | 0 | 2 | 0 | 2 | 0 | 2 | 5.0 |
| 10 | Monica Johnson | 3 | 7 | 1 | 19 | .316 | 0 | 0 | 0 | 0 | 0 | 1 | 0 | 3 | 8.5 |
| 11 | Molly Locke | 3 | 7 | 3 | 26 | .154 | 0 | 0 | 1 | 0 | 0 | 6 | 1 | 0 | 9.0 |
| 15 | Hannah Noon | 3 | 1 | 0 | 1 | 1.000 | 14 | 0 | 0 | 2 | 0 | 4 | 0 | 1 | 1.5 |
| 1 | Emily Krogman | 2 | 0 | 1 | 3 | -.333 | 0 | 0 | 0 | 0 | 0 | 0 | 0 | 0 | 0.0 |
| 3 | Caroline Carlton | 3 | 5 | 5 | 20 | .000 | 0 | 0 | 0 | 0 | 0 | 1 | 0 | 0 | 5.0 |
| 4 | Claire Walizcek | 3 | 0 | 0 | 0 | .000 | 12 | 0 | 0 | 1 | 0 | 4 | 0 | 1 | 0.5 |
| 24 | Tori Penrod | 3 | 0 | 0 | 1 | .000 | 3 | 0 | 1 | 1 | 0 | 13 | 0 | 0 | 1.0 |
| TM | TEAM | 1 | 0 | 0 | 0 | .000 | 0 | 0 | 0 | 0 | 1 | 0 | 0 | 0 | 0.0 |
| | Totals | 30 | 34 | 13 | 104 | .202 | 30 | 0 | 3 | 7 | 2 | 37 | 2 | 8 | 43.0 |
Team Attack By Set
Set
K
E
TA
Pct
1
11
5
31
.194
2
14
3
38
.289
3
9
5
35
.114
Total Team Blocks: 6.0
LEADERS:
Kills-Aces-Blocks:Ellie James (7-1-0); Monica Johnson (7-0-3); Molly Locke (7-1-1); Caroline Carlton (5-0-0); Jordan Gollon (4-0-2); Cara Tripp (3-0-2); Hannah Noon (1-0-1)Assists:Hannah Noon (14); Claire Walizcek (12); Tori Penrod (3); Cara Tripp (1)Digs: Tori Penrod (13); Ellie James (6); Molly Locke (6); Hannah Noon (4); Claire Walizcek (4); Jordan Gollon (2); Monica Johnson (1); Caroline Carlton (1)